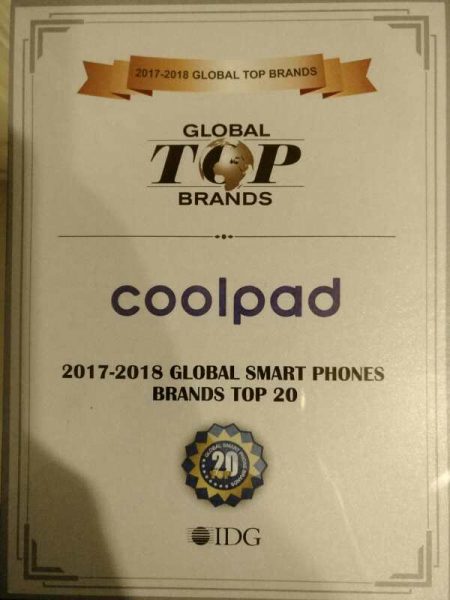 Coolpad, a global leader in smartphone manufacturing and integrated wireless data solutions, bagged four prestigious IDG awards at the ongoing 51st International Consumer Electronic Show, 2018 in Las Vegas. In the past also, Coolpad has won series of major awards at CES for tech innovations and this year also has been awarded with following honors:
2017-2018 Global Smartphone Brands Top 20 Award
2017-2018 Global Smart Connected Devices Brands Top 20 Award
Coolpad 2017 flagship COOL M7 was awarded the Best Fashion ID Design Award
Dynobot dual-camera watch for children was awarded the Best Kids Smart Watch Innovation Award of Technology
Coolpad was awarded the Best Fashion ID Design Award for Coolpad COOL M7 smartphone which was launched in August 2017 in China. The smart phone was appreciated for its excellent design and has already gained a lot of popularity in China, after its launch.
Coolpad was also given Best Kids Smart Watch Innovation Award of Technology for its new children's watch brand, Dynobot. Launched at China Mobile Worldwide Partner Conference 2017, Dynobot supports dual-camera video talking which enables 4G video calls both in front and back, five-dimension positioning and six levels of security. With dynobot watch for children, parents could not only see kids, but also the environment around kids, which makes kids fully enjoy the fun of photography and record the moment they want to keep. The watch also supports Q&A with artificial intelligence, by which children can talk to the watch. Dynobot is Coolpad's first step into the field of artificial intelligence.
According to Coolpad, in the coming years, the company is looking forward to bet big in inculcating Artificial intelligence in their upcoming products. Meanwhile, Coolpad will also create four platforms of health, education, entertainment and social based on AI. It will create a private cloud for each user so that their mobile phone knows them and provides them with better operational experience.
Coolpad has also devised itself for the era of 5G by submitting more than 600 patents in 5G, among which there are more than 300 authorized inventions. In the future, Coolpad will integrate its resources based on 5G technologies to achieve the IoT and improve the interaction speed of mobile phones with intelligent home appliances.
Syed Tajuddin, CEO, Coolpad India, who was there at CES 2018 said, "Winning 4 major awards at the prestigious International Consumer Electronic Show 2018, is a testimony to Coolpad's commitment to strong R&D and intelligent tech innovations. We are working on to develop various technologies and products, while keeping AI as focus. Artificial Intelligence is the future and in the coming years we are looking forward to develop more AI focused products, which will help in giving enriched user experience. These 4 awards will definitely boost our efficiency and will inspire us to come up with more amazing product and technologies in the coming years."