Air Commodore G.L. Hiremath (Veteran) and his wife will embark on a unique road-trip across India in a Tata HEXA. This road trip will be undertaken by the adventurous couple, who are in their 60s. This trip will commence from Belgaum and they will drive the manual 4×4 variant of the Tata HEXA with a purpose to celebrate the lives of the brave men and women working in the Indian Armed Forces. The couple aims to achieve this feat by visiting 32 Air Force bases and 2 naval bases in 60 days, covering 15,100 km, across 34 cities.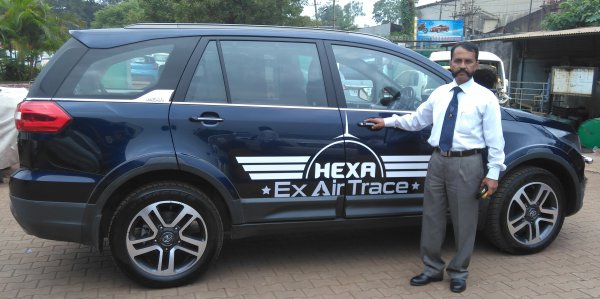 Tata HEXA has an exceptional combination of design, comfort and off-road and on-road capabilities. It is powered by the advanced next-gen 2.2L VARICOR 400 diesel engine and delivers a class leading 400 Nm torque and 156 PS power. With a 6 Speed manual transmission, the HEXA's 'SUPER DRIVE MODES' will provide for an enhanced ride comfort and stability over different terrains. The All-Wheel Drive (AWD) system is electronically controlled via an adaptive system by Borg Warner.
With the mission to drive across the country in a clockwise direction, the duo have chosen the HEXA and will put it to test, starting from the Western border, moving towards the north, through the Jammu and Kashmir, followed by the Himalayan region, across the East coast, and will continue down South to finally end this grueling journey.
In this process they will be touching the international border areas of Pakistan, China, nearby areas of Myanmar, Bangladesh and the entire coastal area.
For this journey, the Tata HEXA has been equipped with accessories such as front fog lamp, flag rod, head up display & tyre pressure monitor system (HUD & TPMs), front fog lamp mounting, digital video recorder (DVR) and decals.EST i