Haier has launched its Golden Colored Gemini Double Drum washing machine in India. Haier's double drum washing machine known as DUO Gemini supports two independently functional drums. This new washing machine, has been launched as a sequel to the first double drum machine introduced by Haier in 2016.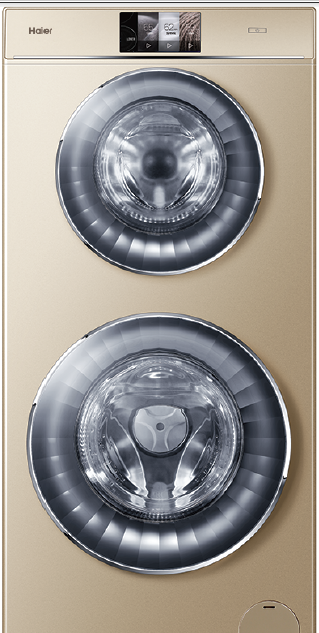 DUO-Gemini having two drums placed on top of each other helps in catering to different laundry needs. This machine is equipped with a wide range of 30 customizable programs (12 in upper drum + 18 in lower drum) which can be used as per the laundry requirements of a typical Indian user. The anti-stain function ability washes almost all kinds of stains, be it removing oil stains on designer fabrics to eliminating milk stains on infants' clothes.
This machine has separated washing facility for washing clothes white/delicate fabrics or colored simultaneously or separately. The upper drum of the machine can contain up to 4 Kg of laundry whereas the lower drum can hold up to 8 Kg.
Armed with the DD motor technology the drum rotates 1500 times per minute and remains steady and silent at the same time. Moreover, the machine consumes 30% less energy having an A+++ energy rating. The machine comes with a lifetime warranty service on motors. The machine also houses a huge tyre door with chroming decoration that lets the users to see through the washing process, one-touch controls and many more such topnotch features.
Haier DUO-Gemini is designed in a stunning Champagne gold color that further adds to the beauty of the machine and makes it look more elegant and magnificent. This washing machine is available at an MRP of INR Rs. 1,69,990.