At an event in Mumbai, South Korean appliances giant, LG has unveiled SIGNATURE series of appliances comprising of TWIN Wash washing machine, Door-in-Door refrigerator, and futuristic hybrid air purifier.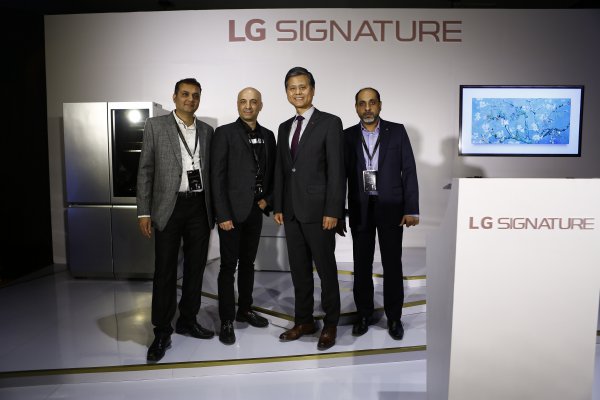 The LG SIGNATURE refrigerator takes LG's award-winning Door-in-Door design concept one step further and comes with a Knock-on Door-in-Door feature that makes the opaqu Door-in-Door compartment transparent with a simple knock. The transparent surface allows customers to peer inside the refrigerator without having to open the door, offering significant energy savings by limiting cold air loss. One more element of innovation added to this refrigerator is the new Auto Door Open feature which automatically opens the door when an individual approach the refrigerator, allowing for quick and easy access even if your arms are full of groceries.
The LG SIGNATURE refrigerator is powered by LG's Inverter Linear Compressor which automatically adjusts its cooling capacity based on load conditions, generates less internal friction due to its unique design and is backed by a 10-year warranty.
LG SIGNATURE washing machine is an advanced version of the LG TWIN Wash. The LG SIGNATURE front load washing machine is more durable, more convenient and more sophisticated than ever and features the unique pedestal MINI Wash under the main unit. Its Quick Circle User Interface which is touch-enabled and embedded in the glass door, makes it easy to use when standing. The Push Open washing machine door can be opened even when your hands are full by simply pushing lightly and the enamel coating which gives the washing machine a sophisticated and sleek look also repels fingerprints and corrosion.
The LG SIGNATURE washing machine comes equipped with LG's proprietary Centum System which improves the washing machine's durability and energy efficiency with an advanced suspension system.
LG SIGNATURE air purifier allows the air cleaning process to be a visual experience with its innovative transparent panel. It is equipped with an advanced Aqua-Cyclone feature which harnesses the power of water to filter out harmful chemicals and contaminants while quickly bringing the room to comfortable humidity levels. The unit is equipped with LG's Semi-Permanent Filter System, allowing consumers to remove, wash and reuse the filters for up to 10 years, saving both time and money.
While fine dust particles are typically invisible to the naked eye, customers can see the air quality of their indoor environment by simply glancing at LG's Smart PM1.0 Indicator. Positioned around the control display, the indicator uses four different colors of light to signify the concentration of super-finedust particles.