Realme, the emerging smartphone brand in India, is celebrating its first anniversary in a big way with exciting offers across realme.com, Flipkart, Amazon and through its offline stores on all realme products and accessories.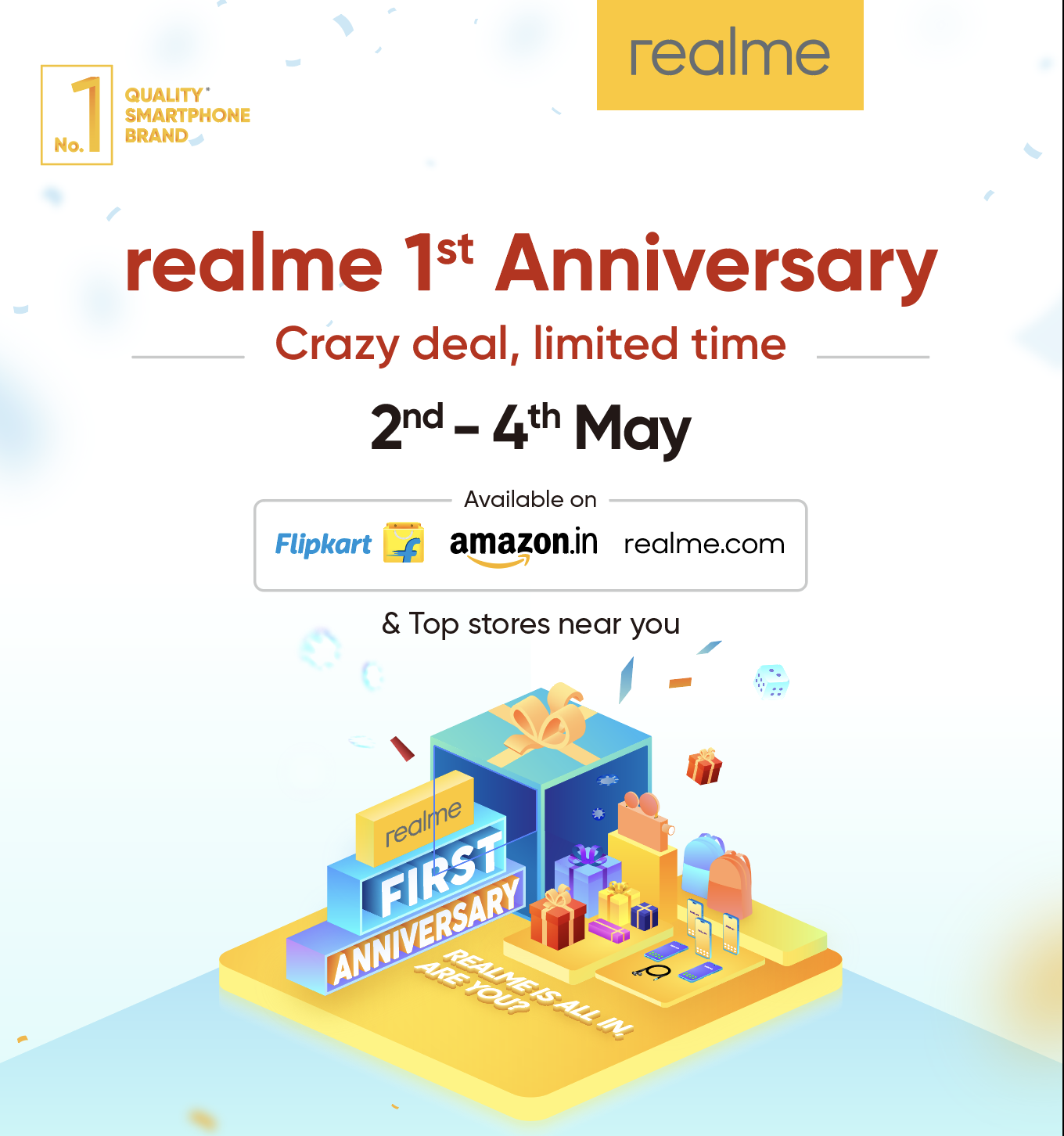 Realme is also conducting "Like" Collection, a campaign for fans on realme.com and is offering INR 1 Crore Coupon fund to be given away amongst all realme fans. The registration for the coupon fund has started from April 29 and will go on till May 1. All registered users can participate in this event. During the "Like" Collection, participants are required to invite their friends to like on their personal homepage. The Inr 1 Crore Fund will be divided among all the participants with likes. The coupons will be delivered by May 2 and can be applied on the realme website from May 2- May 4. The coupons can be used on all realme phones except relame 3 Pro with a discount of up to INR 1000 for every phone. Realme will also give away free phones for top 10 participants on "Like" ranking.
During the anniversary sale, realme will also offer INR 1 Super Deals Feast with select realme phones and accessories available at only INR 1 during the anniversary sale.
The third campaign on realme.com will be 'Fans All In' is a special Thank You for realme customers. The 'Fans All In' offers existing customers coupons between May 2, 0:00:00 to May 4, 23:59:59 to grab gifts according to the quantity of their badges. The coupons remain valid from May 2 till May 31 and can be used on all devices except, realme 3 Pro. For 3 badges, customers will get INR 500 off, for 2 badges, INR 300 off and INR 200 off for 1 badge. Coupons can be used on phones except 3 Pro and C2, valid from 2nd May to 31st May
Taking the celebrations across all realme partners, the stores will feature a Lucky Draw for every consumers for all 3 days during May 2 – 4. Every customer buying a realme phone will get a chance to participate in the lucky and stand a chance to win exciting prizes or the Jackpot prize i.e., a brand new Royal Enfield Bullet. The Jackpot prize will have a winner each from the 4 regions. The list of winners will be announced everyday on website community. 1st prize, realme U1 will be given on an everyday basis to winners across all four zones. The 2nd Prize will be a realme C1 etc.
Offline stores will also offer the following Realme phones on discounted prices during the 1st Anniversary sale:
· Realme U1 (3 GB + 32 GB and 4 GB + 64 GB): Flat Rs 1000 Off
· Realme U1 (3 GB + 64 GB): Flat Rs 500 price drop
· Realme 2 Pro: Flat Rs 1000 price drop
· Realme U1 and Realme 2 Pro: 1 year extended Warranty
· Realme 3 3GB + 64 GB: will be available from May 2 onwards for INR 9999
Also on offers will be all Realme phones at attractive prices from midnight of May 2 till May 4 across Flipkart, Amazon and realme.com.