Skoda Auto has entered into SUV segment and launched in India KODIAQ seven seater SUV. Priced at Rs. 34.49 Lakhs ex-showroom all over India, this SUV will be available in Style variant only with Diesel engine in 4 colors of Lava Blue, Quartz Grey, Moon White and Magic Black.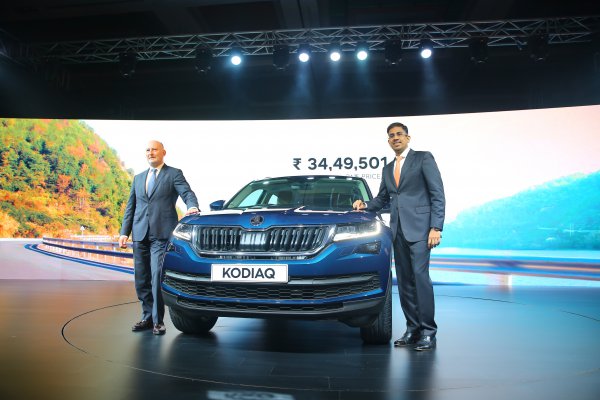 The KODIAQ has three-dimensional radiator grille with the narrow raked headlights equipped with full-LED technology for the first time. Its side and rear views are also crisp, the doors are asthletically shaped and the tailgate is sculpted. This vehicle is 4,697 mm long, 1,882 mm wide and 1,676 mm tall (including roof rails).
The interior of this SUV is characterized by bold vertical elements, such as the four large air vents. Numerous comfort features are available for the front and rear seats. The front seats can be adjusted electrically and includes a memory function.
This SUV is powere by 2.0 TDI engine which generates 110 kW (150 PS) and 340 Nm with a fuel efficiency of 16.25km/L. The KODIAQ accelerates from 0-100 km/h in 10.1 s and reaches a top speed of up to 192 km/h. The new 7-speed dual-clutch transmission (DQ-500 7A) is a variant that has been designed for powerful engines with a torque of up to 600 Nm.
This SUV comes with 9 airbags as standard, handsfree parking for minimizing the hassle of parking in tight spots by automatically selecting an appropriate parking place in a row of parallel or perpendicularly parked vehicles. In addition, the car is equipped with other safety features such as iBuzz Fatigue Alert which detects signs of fatigue in the driver and prompts the driver to take a break. In case of an accident, the Multi-Collision Brake, which comes as standard, prevents any further uncontrolled movement.
It has power steering, using an efficient electro-mechanical drive, ensures exact contact with the road and works in close harmony with several assistance systems. It is equipped with Trinity 18-inch wheels, large ventilated brake discs at the front which are strong and stable.
It incorporaes the Amundsen music and infotainment system with SmartLink all-in-one app which also integrates SmartGate alongside Apple CarPlay, Android Auto and MirrorLink. The premium Canton Sound system features 10 speakers, including subwoofer, and has a power output of 575 watts.
It has boot capacity of 270 to 2,005 L (with the rear seats folded down). In addition, the virtual pedal enables contact-free access and it is available exclusively with the electrically-controlled 5th door and KESSY (Keyless Entry, Start and stop button). Electrically-controlled 5th door opens and closes at the mere touch of a button on the remote control and driver door. You can also adjust the upper door position to suit your needs. There is a button for closing the 5th door directly on the door, too.