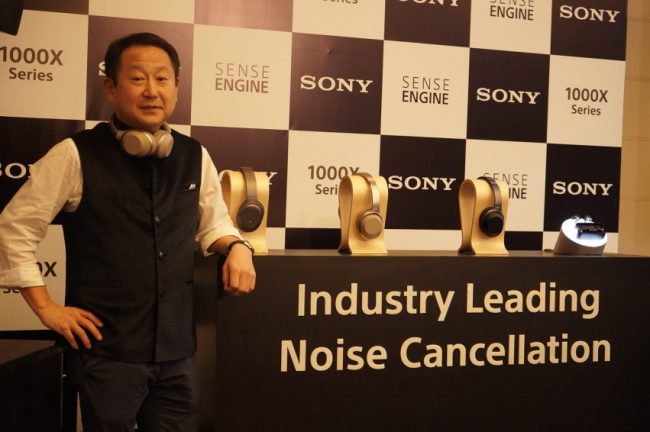 At an event in New Delhi, Sony India has launched today WI-1000X, WH-1000XM2, WH-H900N Wireless headphones and wireless WF-1000X earbuds. The USP of these products is that all of them come with Noise Cancellation feature without distraction and have
smart phone application – Headphones Connect App – to fine-tune sound. This app is packed full of Sony smart features for adaptable listening, utilising mobile device's accelerometer sensor to detect the users activity and adjust music and sound settings to best suit the environment.
The WH-1000XM2, WF-1000X and WI-1000X comes with Adaptive Sound Control feature which offers noise cancelling and ambient sound preferences to suit different environments. The WH-1000XM2 and WI-1000X also incorporate Atmospheric Pressure Optimizing feature that uses sensors to detect the air pressure around and optimize the noise cancelling accordingly.
The h.ear on2 Wireless NC, WH-H900N brings wireless noise-cancelling technology with touch control in the around-ear style. The user can easily skip songs with touch control, or if they prefer to use the Headphones Connect App, it can be controlled through the smartphone.
The WH-1000XM2 has battery life of 40 hours with an audio cable, or 30 hours wirelessly. With Quick Charge you can get 70 mins of battery life with just 10 minutes of charging. On the other hand, WF-1000X comes in the sleekly designed charging case for up to 9 hours of usage. The WH-H900N is claimed to have 28 hours of battery life and with Quick Charge of just 10 minutes, you will get 65 minutes of life.
Prices and availability :
Model
Best Buy
Availability
Colours
WH-1000XM2
Rs. 29,990 /-
December 14th 2017
Black and Gold
WH-H900N

(Sony h.ear on 2)

Rs. 18,990 /-
December 14th 2017
Black
WF-1000X earbuds
Rs. 14,990 /-
November 24th 2017
Black
WI-1000X
Rs. 21,990 /-
November 24th 2017
Black
 Detailed Specifications:
Model Name
WF-1000X
WI-1000X
WH-1000XM2
Wearing Style
In-Ear, Truly Wirelessstyle
In-Ear, Behind-the-neck style
Headband style
Driver Unit
6mm
Hybrid (9mm dynamic + Balanced Armature Tweeter)
40mm
Frequency Response
20Hz – 20,000Hz (A2DP)
3 Hz-40,000 Hz
4Hz-40,000Hz
Impedance
–
22 ohms (Power On) (Wired)

24 ohms (Power Off) (Wired)

46 ohms (Power On) (Wired)

14 ohms (Power Off) (Wired)

Sensitivity
–
101dB/mW (Power On) (Wired); 97dB/mW (Power Off) (Wired)
103dB/mW (Power On) (Wired); 98dB/mW (Power Off) (Wired)
Weight (excluding cable)
Approx. 6.8g
Approx. 71 g
Approx. 275g
Volume Control
–
Button
Touch Sensor
Built-in Microphone
Yes
Yes
Yes
Adaptive Sound Control
Yes (via Headphones Connect app)
Yes (via Headphones Connect app)
Yes (via Headphones Connect app)
Quick Attention Mode
–
–
Yes
Digital Noise Cancelling
Yes (On/Off)
Yes (On/Off, Automatic AI Noise Cancelling,Atmospheric Pressure Optimizing)3
Yes (On/Off, Automatic AI Noise Cancelling, Personal NC Optimizer, Atmospheric Pressure Optimizing)3
Ambient Sound Mode
Yes (Normal/Voice)
Ambient Sound Control (via app)
Digital Amplifier
–
S-Master HX
Sound Enhancements
Preset Equaliser[7]
DSEE HX™, Sound Position Control, Surround Sound, 5 Band Equalizer + CLEAR BASS
DSEE HX™, Sound Position Control, Surround Sound, 5 Band Equalizer + CLEAR BASS
Vibration
–
Yes (Incoming Call Alerts)
–
NFC
Yes
Yes
Yes
Bluetooth®
Version4.1 (A2DP, AVRCP, HFP, HSP) Supported codecs: SBC, AAC
Version4.1 (A2DP, AVRCP, HFP, HSP)

Supported codecs: SBC, AAC, aptX, aptX HD, LDAC™

Passive Operation
–
Yes (Wired when battery runs out)
Battery Charging Time
Approx. 1.5 Hours (Full charging for earbuds via charging case) (70 mins playback after 15 mins of charging)
Approx. 3.5 hours (Full charge) (70 mins playback after 15 mins of charging)
Approx. 4 Hours (Full charge)

(70 mins playback after 10 mins of charging)

Battery Life (Wireless
music playback time)
Max. 3 hours (Charging case offers two full recharges)
Max. 13/10 hours (NC off/on)

Max. 14 hours (NC, wired)

Max. 38/30 hours (NC off/on)

Max. 40 hours (NC, wired)

Supplied Accessories
Charging Case, Micro-USB Cable, Long Hybrid Silicone Rubber Earbuds (4 Sizes), Fitting Supporters (2 Sizes), Triple-Comfort Earbuds (3 Sizes)
Carrying Pouch, Approx. 1.0m Headphone Cable, Micro-USB Cable, In-Flight Plug Adaptor, Hybrid Silicone Rubber Earbuds (4 Sizes), Triple-Comfort Earbuds (3 Sizes)
Carrying Case, Approx. 1.5m Headphone Cable, Micro-USB Cable, In-Flight Plug Adaptor