Barco has powered the spectacular projection mapping on the 'Statue of Belief', or 'Vishwas Swaroopam' in Nathdwara, the tallest statue of Lord Shiva in the world. Built over a 16-acre plot and towering 369ft (or 112.5 m) tall, the 'Statue of Belief' is currently the fifth tallest statue in the world.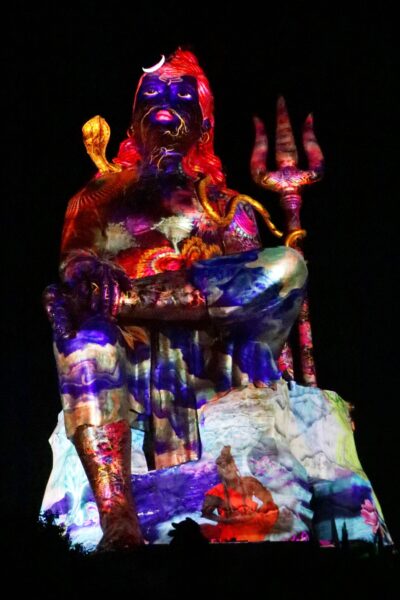 According to Barco, the mesmerizing sound & light show, conducted in the evening, showcases a divine passage to spirituality by highlighting the true essence of Shiva and its connection with the universe. Depicting sermons on life in a narrative fashion on the façade of the statue, the show runs over a span of 30 minutes and is powered by a total of twenty-four Barco UDX-4K40 projectors, with each projector delivering 40.000 lumens and immersive 4K resolution. This is India's first-of-its-kind and the largest deployment of 4K resolution projectors in India for a fixed projection mapping show. The projection design and execution for the statue have been handled by Axis Three Dee Studios Pvt. Ltd. and the media server and technology element is managed by Dataton.
The 'Statue of Belief' is witnessing an average footfall of over 3.500 visitors per day and more than 4.500 visitors on weekends. The surrounding area of the statue features three herbal gardens, a water body, musical fountains, landscaping, an amphitheater, a food court, handicraft shops, and an amusement park for children.
The interior of the statue contains an exhibition hall as well as public viewing galleries accessible by elevators. The space is now being developed into an experience centre with immersive visuals, through the installation of 65 Barco G62-W11 projectors featuring a brightness of 11.000 Lumens.
Speaking about this development, Rajiv Bhalla, Managing Director of Barco India "the projection mapping experience at Nathdwara's 'Statue of Belief' is a shining beacon of Barco's expertise in visualization technology. The mammoth size of the statue, and its multiple contours, made this a tricky proposition but Barco's UDX-4K40 projectors have enabled us to create sharper images and bright outcomes for this work of art. We are delighted that the overall experience is garnering strong appreciation from the audience, and we look forward to powering innovative experiences in 2023 and beyond, through Barco's cutting-edge projection mapping solutions."