BenQ has launched today SW272U monitor to meet the demanding requirements of professional photographers, videographers, and creative professionals. This monitor offers an exceptional combination of color accuracy, resolution, and connectivity.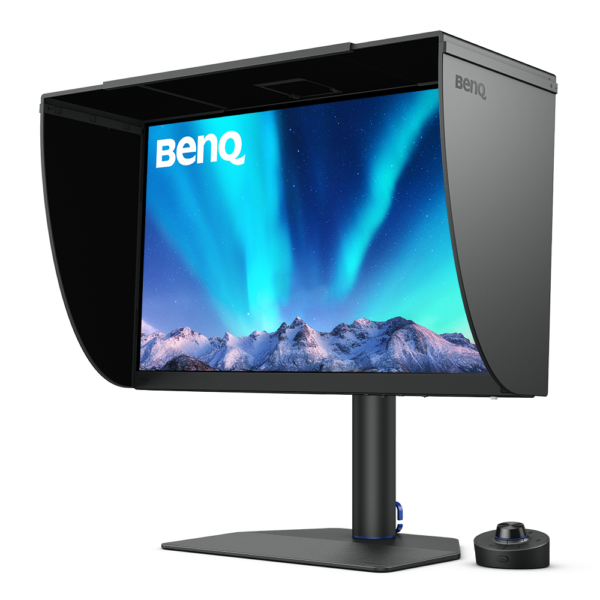 The BenQ SW272U comes with The A.R.T (Advanced Reflectionless Technology) displa which guarantees color excellence, providing a wide color gamut that covers 99% of Adobe RGB, 99% of P3, and 100% of sRGB color spaces. The Monitor comes with a Factory Calibration report and supports Hardware Calibration through Palette Master Ultimate, BenQ's proprietary software for hardware calibration.
The SW272U boasts a UHD (Ultra High Definition) resolution (3840×2160 pixels ) with a 10-bit color depth and innovative technologies like Paper Color Sync and AQ color tech for providing unparalleled color performance.
This monitor is equipped with an accessory, shading hood (landscape & portrait), and AGLR (Anti-Glare and Low Reflection) panel, that simulates paper texture on-screen and provides an ideal viewing experience. The fine-coated panel ensures precise soft-proofing, and the PIP/PBP functions allow users to work with two different windows simultaneously.
In terms of connectivity, the SW272U offers expanded options with USB Type-C connectivity, allowing direct input from compatible PCs and laptops. It is also embedded with SD Card Reader to allow seamless connectivity with your cameras. The monitor provides a maximum power delivery of 90W, ensuring convenience and efficiency. It also comes with wireless Hotkey Puck G3, a total-solution tool for color-critical professionals that enables easier color-accuracy management at the reach of your hand.
To further guarantee color accuracy, BenQ PhotoVue monitors have earned Calman Verified, Pantone, and Pantone SkinTone Validated status. These certifications appeal to professionals who appreciate products that faithfully reproduce real-world colors.
As an added bonus, BenQ is pleased to announce a partnership with Pantone Connect. Users who have purchased or already own any of the PD/SW products are eligible for a one-year FREE Pantone Connect Premium subscription, valid until September 30, 2023. Pantone Connect is a powerful platform that enables designers to access Pantone Color Libraries, color values, and navigation tools.
The BenQ SW272U is now available for purchase at authorized retailers, BenQ online brand store and E-commerce platforms nationwide. The SW272U is available at Amazon India at a special introductory price of Rs.1,39,990; and customers can avail attractive no cost EMI up to one year.