Canon India announced today the launch of the EOS C70 camera which is the newest addition to their Cinema EOS System. This is the first EOS Cinema camera that is compatible with any RF lens from Canon's EOS R System. It utilizes Canon's RF lens mount and achieves a compact and lightweight design. It supports 4K/120P high frame rate recording.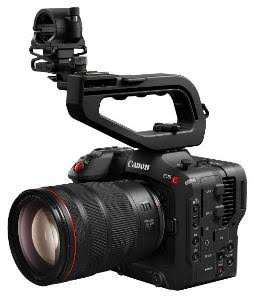 Canon has also announced the launch of the mount adapter for EOS C70. The Mount Adapter EF-EOS R 0.71x (sold separately) will enable the camera to support an extensive lineup of EF lens series.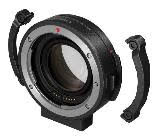 The EOS C70 comes with a 4K Super 35mm CMOS DGO (Dual Gain Output) sensor for capturing high-image-quality 4K video in 4:2:2 (10-bit) color that delivers rich gradation, even in environments which demand high dynamic range. Moreover, the camera is also equipped with the DIGIC DV7 image-processing platform capable of high-speed processing, enabling users to record high-frame rate 4K/120P video to UHS-II standard SD cards. Employing a miniaturized optical system, the Mount Adapter EF-EOS R 0.71x allows for video recording with an angle of view close to that of the mounted full-frame lens. This allows users to take full advantage of the wide selection of EF series lenses as well as expands the possibilities and flexibility of video production.
The EOS C70 is equipped with two SD card slots and supports a variety of recording modes such as simultaneous recording, relay recording and 4K/2K recording. In addition, the camera also incorporates Canon's proprietary Dual Pixel CMOS AF technology, which offers even greater performance with the addition of Intelligent Tracking and Recognition System.
This camera provides excellent versatility that can handle a variety of recording scenarios and inherits many professional features found in the existing Cinema EOS lines, including two mini XLRs, audio control dials, Timecode IN/OUT, full HDMI terminal and the newly designed "Direct Touch Control" function that allows users to change recording settings quickly and directly from the camera's touchscreen panel.
The optical system of the Mount Adapter EF-EOS R 0.71x reduces focal length by 0.71x, thus allowing the EOS C70—equipped with a Super-35mm DGO sensor—to record video using EF lenses originally designed for full-frame sensors with an angle of view similar to the original angle of the full-frame lenses. In addition, reducing the size of the optical system gains approximately one extra stop (one lens aperture "f-number") of brightness, thus requiring lower ISO sensitivity. This enables high-image-quality recording with less noise, even in low-light environments such as indoors or at night.
When equipped with EF lenses via the Mount Adapter EF-EOS R 0.71x, the EOS C70 digital cinema camera can achieve the same Dual Pixel CMOS AF autofocus functionality across the entire image, just like digital cinema cameras with an EF mount. In addition, the camera can also record and display data such as peripheral illumination correction, effectiveness of lateral chromatic aberration correction, F-number and focal length.
The Canon Cinema EOS C70 and the Mount Adapter EF-EOS R 0.71x will go on sale in November 2020.