Esri India, the leading Geographic Information System (GIS) Software & Solutions provider, has signed a Memorandum of Understanding (MoU) with TEXMiN Foundation to set up a Geospatial Excellence Centre at the Indian Institute of Technology (Indian School of Mines), Dhanbad. The TEXMiN – Esri Geospatial Excellence Centre at IIT (ISM), Dhanbad will focus on research and innovation in spatial analytics & remote sensing for mining and exploration.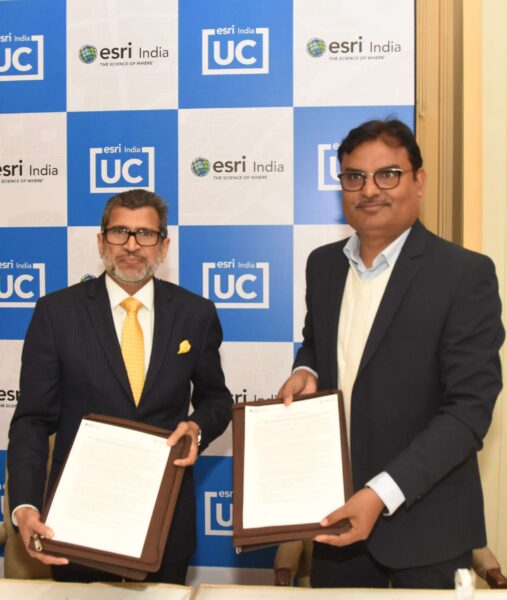 Since the business of mineral exploration covers large expanses of land and deals with abundant data, location-based information is key to successful extractions. GIS plays an important role in the value chain of earth sciences and mining, starting from exploration to exploitation of mineral resources and finally to restoration. Knowledge of GIS enables mining professionals to explore and calculate economic potential, manage risk, conduct environmental assessments, and analyze other concerns effectively and accurately.
As a result of this collaboration, Esri India will enable Technology Innovation in Exploration & Mining Foundation (TEXMiN) with GIS technology for establishing the Geospatial Excellence Centre. Going forward, TEXMiN and Esri India will also work towards developing new GIS technology, and training/skill development programs to build the GIS capabilities of mining professionals and drive R&D and industry consulting projects in the domain.
Agendra Kumar, Managing Director, Esri India, said, "Location Intelligence is fundamental across the mining life cycle, from mineral exploration to mine remediation. With minerals getting depleted faster than we can replenish, understanding spatial context and integration with other geoscience technologies is critical for the sustainable development of new reserves. With an intent to make future mining professionals spatially intelligent, we are partnering with TEXMiN Foundation and setting up a Geospatial Excellence Centre at IIT (ISM) which will aim at fostering research, innovation, and developing novel solutions for the petroleum and earth science industry."
Prof Rajiv Shekhar, Chairman, TEXMiN & Director, IIT(ISM) Dhanbad shared, "The objective of TEXMiN is to promote the use of the latest technologies in mining and exploration. GIS can help mining professionals meet the complex challenges of mining operations by providing the necessary tools to visualize and analyze volumes of spatial data. With an intent to build the GIS capabilities of future mining professionals, we are collaborating with Esri India to set up The TEXMiN – Esri Geospatial Excellence Centre. This initiative will help us transform TEXMiN into a single platform for professionals in leveraging spatial analytics & remote sensing for mining and exploration."