Fujifilm has launched GFX 50R medium format mirrorless camera in India. This camera features the FUJIFILM G Format (medium format, 43.8×32.9mm) image sensor, which is approx. 1.7 times the size of a full frame 35mm image sensor which is in use commonly as stated by the company.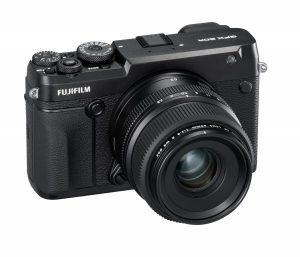 This is compact and lightweight (approx. 775g ) medium format mirrorless digital camera in the rangefinder style and is approx. 145g lighter than the GFX 50S (weighing 920g with EVF). The camera body is just 66.4mm thick, 25.0mm thinner than the GFX 50S.
Its rangefinder style design allows you to keep your eye on a subject while looking through the viewfinder with the other eye. This enables checking and feeling the atmosphere of the scene around your subject matter, shown in the EVF.
The GFX 50R is equipped with the 0.77x 3.69M-dot organic EL electronic viewfinder (EVF). This allows accurate focusing despite the large size of the medium format sensor, which has a shallower depth of field than that of a 35mm full frame sensor when shooting at the same angle of view.
This camera is equipped with 51.4MP medium format CMOS sensor. The medium format (43.8mm x 32.9mm) "G Format" sensor has better per pixel light reception capability than that of a 35mm full frame sensor of the same resolution. Furthermore, the micro lenses have been designed to optimize the light gathering performance and image resolution as well as the handling of data from photodiodes are customized to achieve a superior level of image quality, surpassing that of existing cameras that use a sensor of the same size.
The GFX 50R features the X-Processor Pro image processing engine. Supporting FUJIFILM's renowned Film Simulation modes, the camera allows you to opt for the tonality of photographic films such as Velvia, PROVIA and ACROS, used for many years in medium format film cameras by professional and enthusiast photographers alike.
The GFX 50R is equipped with the Focus Lever to allow quick adjustment of the focus point. The elimination of the selector buttons provides extra space to hold the camera better. The top panel sports two dials, one for shutter speed and the other for exposure compensation. The milled aluminum dials give the camera a premium feel and satisfying clicking touch.
Its robust magnesium alloy body is weather-sealed in 64 places to provide dust and weather resistance and ability to operate at temperatures as low as -10 degree celcius.
The medium format mirrorless system, GFX system, currently offers a lineup of seven FUJINON GF lenses, covering focal lengths from 23mm (equivalent to 18mm in the 35mm film format) to 250mm (equivalent to 198mm in the 35mm film format). All GF lenses are able to resolve up 100MP which means they are future proof. They are also dust and weather resistant and designed to operate at temperatures as low as -10? so that they withstand professional use in harsh conditions.
The GFX system supports tethering software "HS-V5 for Windows" and "Tether Shooting Plug-in PRO for Adobe Photoshop, Capture One Pro (FUJIFILM) is also due to be released, giving extra options in studio sessions for commercial and fashion photography.
This is the first model in the GFX system to support the Bluetooth low energy technology. Captured images can be transferred easily and quickly to smartphones and tablet devices paired with the camera via the FUJIFILM Camera Remote app.
This camera is priced Rs 369,999 (Body Only).
Along with this, Fujifilm also added two new XF lenses namely XF 8-16mm f/2.8 R LM WR Lens and XF 200mm f/2 OIS WR Lens to the lens lineup for its X Series range of Mirrorless cameras. The XF 8-16mm f/2.8 R LM WR is a 12-24mm-equivalent lens featuring a constant f/2.8 maximum aperture for consistent performance throughout the zoom range. The XF 8-16mm f/2.8 R LM WR is available at Rs 159,999/-.
The XF 200mm f/2 OIS WR Lens, on the other hand, is the first super-fast telephoto lens in the XF lens lineup, offering a fast maximum f-stop of 2.0 and a focal length equivalent to 305mm in 35mm film format. Taking advantage of technologies synonymous with FUJINON lenses, this new telephoto lens boasts exceptional image clarity with the ability to produce beautiful bokeh, making it the perfect choice for shooting sports and wildlife. It is available at a price of Rs 479,999/-.