Fujifilm India has launched today the first-ever hybrid instant smart camera, the instax mini LiPlay. The LiPlay has features of LCD display screen and wireless connectivity that enables one to print photos directly from their smartphone.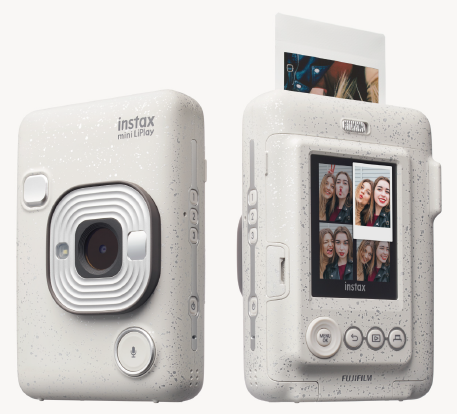 The all in one instax LiPlay is not just a camera; it is a printer as well. It is a new addition to the lineup of "instax" instant cameras, which allows you to enjoy photo prints on the spot. With LiPlay you can review photos captured on the device via the LCD monitor on the back of the camera and choose images you want to print. Not only this but the camera comes packed with new features such as the Sound Record which can be used to record upto 10 seconds of audio, which can then be printed along with the photo in the form of a QR code.
Another feature of Liplay is the Direct Print function which allows one to print any image from their smartphones on an instax mini film. Taking group photos is as easy as smile and click with Liplay, which also offers a Remote Shooting function through the Liplay smartphone app to release the shutter while standing away from the camera itself.
The new camera supports a credit-card sized mini film along with a new metallic instax mini film CONFETTI and instax square film Star-illumination, available in two designs, adding a touch of creativity to photos.
The camera's main unit is the smallest and most lightweight in the history of the instax series for outstanding portability. Designed with streamlined and stylish look, the camera's compact and lightweight body makes it easy to carry. Buttons and dials for basic operations such as shutter release and Sound function are laid out for advanced operability.
This camera is now available in the market at a price of MRP of INR 13,799, which comes in three colors of Stone White, Elegant Black, Blush Gold and each of which has different surface processing, such as embossed or smooth finish.
Commenting on the occasion Mr. Haruto Iwata, Managing Director, Fujifilm India Pvt. Ltd. said, "With this new addition to the instax range, Fujifilm will continue to enhance the world of the instant photo system for on-the-spot photo printing in India. The all-in-one instax LiPlay has been designed keeping in mind the ever changing preferences of the Indian youth, offering unique features to complement the needs of these young customers. At Fujifilm, we are constantly committed towards expanding the world of Instant Photography in India's growing smartphone market."