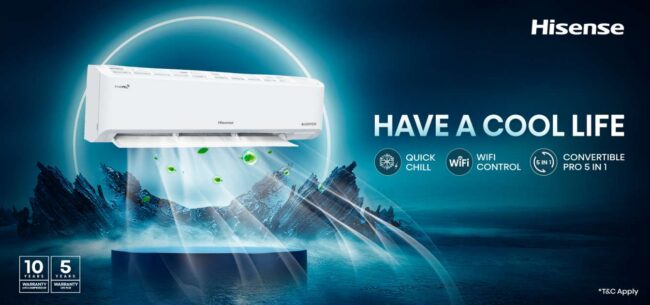 Hisense has introduced its Smart air conditioners in India – the IntelliPRO and CoolingXpert. These ACs are packed with host of features, such as a WIFI Voice Control, 5-in-1 Convertible Pro and many others and also provide a 10-year warranty on the compressor. The IntelliPRO and CoolingXpert offer capacities ranging from 1 ton to 2 ton, with prices starting from Rs. 31,000 and are available at leading electronics stores across India.
Salient Features of IntelliPRO and CoolingXpert ACs:
Wi-Fi & Voice Control
The IntelliPRO comes equipped with WIFI Smart controls, making it easy to operate the air conditioner from anywhere with your smartphone, tablet or with just voice using Google Assistant.
Health Filter and Auto Clean
IntelliPRO and CoolingXpert come with a PM2.5 health filter which protects your health by filtering out harmful PM2.5 pollutants in the room. Auto clean mode prevents mold, moisture, and dust from accumulating in the indoor unit, allowing the user to enjoy strong and odour-free cooling at home.
Quick Chill
Stepping in from a hot and humid environment the Hisense QSD technology brings Intelligent Inverter Compressor high speed running for a quick and effective chill on demand.
5-in-1 Convertible Pro
Both ACs have 5 modes which can be chosen depending on how much cooling power is needed. Starting from 50%, it goes up to 110% in quick time, giving a powerful and instant chill room.
Corrosion Shield
The Ac's are equipped with indoor and outdoor unit's hairpin coating technology and blue fins to prevent rust and ensure durability and longevity.
Smart Modes
You can swap between different modes as per room requirement to make the most of your AC rather than fumbling between temperature and fan speeds. The AC automatically selects the best temp and fan speed based on that mode for best performance.
Stabilizer-Free Performance
Even at extreme temperatures, thes air conditioners operate smoothly in voltage circumstances ranging from 140V to 290V. This saves the expense of purchasing a separate stabilizer.
100% copper & Eco-friendly Refrigerant
This air conditioner's evaporator and condenser are composed of 100% inner-grooved copper tubing for improved operational safety, increased hardness, easier maintenance, long-term use and high-efficiency heat exchange. Air conditioner uses the R32 eco-friendly refrigerant, which emits fewer greenhouse gases and requires less refrigerant.
Smart Diagnosis
The smart diagnosis mode will show an error code for easy problem diagnosis and quick resolution. Offering a comfortable feel at home. Hisense ACs are a must-buy for the cool season knocking on the door.