HP has updated its Pavilion line-up and introduced today HP Pavilion 13, HP Pavilion 14, and HP Pavilion 15 Laptops. These laptops are powered by 11th Gen Intel Core processors with Intel Iris Xe graphics.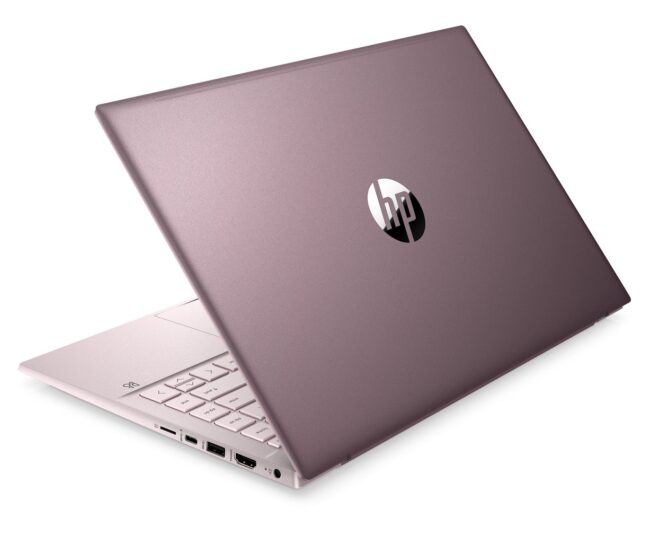 According to HP, The new Pavilion notebooks feature the use of post-consumer recycled and ocean-bound plastics in the construction of the speaker housing – and its use in these devices is estimated to keep approximately 92,000 plastic bottles out of the oceans and landfills. The outer boxes and fiber cushions used in packaging the new devices are also 100% sustainably sourced and recyclable. The laptops are also EPEAT Silver registered and Energy Star certified.
On the design front, these laptops come with clean lines and sculptural elements with attractive hourglass edges and users can easily open the device from all three sides. These devices feature a 3D seamless metal chassis to eliminate parting lines on the device for a sleek, clean look and feel. The AED finish in ceramic white color comes with its own advantages delivering best balance in terms of reliability and colorful effects on metal chassis. All the laptops also come in four unique color combinations. All platforms will offer natural silver, and ceramic white color combinations; the Pavilion 14 also features a tranquil pink color combination; and, the Pavilion 15 will offer four different color options including fog blue.
The Pavilion 15 sports an 86% screen-to-body ratio (STBR). The displays of these laptops have a three-sided micro edge bezel, with the Pavilion 13 offering a Full HD display, and the Pavilion 14 and Pavilion 15 offering either an HD or Full HD panel. The devices are also Microsoft High Dynamic Range (HDR) streaming capable, with High Efficiency Video Coding (HEVC) preinstalled on FHD panel options for a richer, more colorful viewing experience. HP is powering the entire range with 16GB RAM/512SSD and FPR to enhance the overall user experience.
All the laptops have an edge-to-edge keyboard, a larger, more modern, precision touchpad for multi-touch support and easier navigation, and a secure log-in with the optional fingerprint reader.
The Pavilion laptops are powered with the new 11th Gen Intel Core processors with Intel Iris Xe graphics??. The Pavilion 14 and Pavilion 15 offer the option of up to NVIDIA GeForce MX450 graphics.
Other salient features:
Accelerated access to files and better storage performance: All three devices offer optional dual channel memory technology and optional Intel Optane Memory with PCIe SSD standard up to 1TB .
Battery life: Easily power through the day on the newest Pavilion laptops, with up to 8.5 hours of battery life on the Pavilion 13, and up to 8.75 hours on the Pavilion 14 and Pavilion 15.
Adaptive Battery Optimizer helps preserve the battery health and prolong lifespan
The ports for productivity : The HDMI 2.0 port easily connects an external 5K monitor?, and a versatile SuperSpeed USB-C port supports data, display, and power delivery?.
Faster Wi-FI speeds: With Wi-Fi 6, the Pavilion PCs enable up to four times faster maximum Wi-Fi speeds and 75% lower latency.
Quick access to the PC anytime: Open the laptop for an instant wake from sleep with HP's Modern Standby to receive email, notifications, and stream music while in a lower power sleep state.?
Great video and audio experience: HP Dual Speakers, HP Audio Boost, and tuning by B&O deliver a rich, authentic audio experience, and the HP Wide Vision HD Camera features an 88-degree, wide-angle field of view to video chat in crystal clear detail.
Pricing and availability:
Available at all HP World stores and online store.hp.com/in, the new HP pavilion portfolio is priced as follows:
· HP Pavilion Laptop 13-bb0075TU is available at a starting price of INR 71999 in 13" screen size. Also available in i5 and i7 variants with 1TB SSD colors: Silver/Ceramic white
· HP Pavilion Laptop 14-dv0053TU is available at a starting price of INR 62999, in 14" screen size. Also available in i5 and i7 variants with 1TB SSD colors: Silver/Ceramic white and Tranquil pink
· HP Pavilion Laptop 14-dv0084TX is available at a starting price of INR 67999, in 14" i5 GFX powered with Iris Plus GFX Color : Silver
· HP Pavilion Laptop 15-eg0103TX available at a starting price of INR 69999, in 15" i5 GFX powered with Iris Plus GFX Color: Silver/Ceramic White/Fog Blue