Lenovo has today announced the launch of the ThinkStation P620 which is designed for heavy-duty work. It is equipped with the latest AMD Ryzen Threadripper PRO processor, with up to 64 cores and up to 4.0 GHz. With a fully customized and scalable chassis, it is fine-tuned for those who demand more power for today's multi-threaded applications. It is the first and only PCIe Gen 4 workstation available today, and it includes support for up to two NVIDIA Quadro RTX 8000 or four RTX 4000 graphics cards, up to 20TB storage, and an expandable memory up to 1TB to deliver a high speed performance.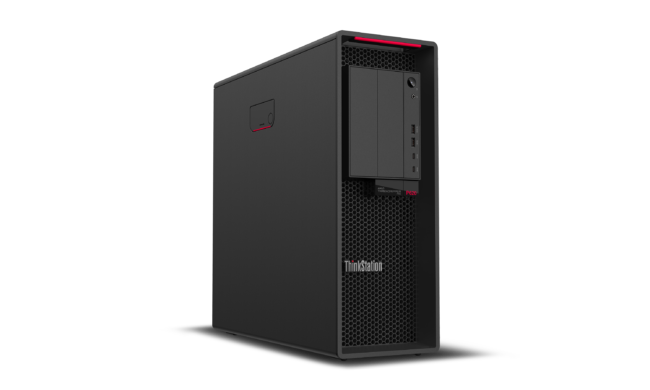 This workstation boasts of flexible GPU configurations, faster memory, quicker storage transfer speeds, 10 GB of built-in Ethernet, and it has been designed to be the most versatile workstation in the market. Thanks to its essential enterprise-grade features, this machine is expected to work within some of the most demanding professionally managed IT environments.
Lenovo and AMD have collaborated closely to create a customized heat sink that uses a unique air-cooled solution to handle the increased thermal requirements, surfacing due to the advanced design of the processor. With enterprise class features, the P620 ensures stability and reliability.
Users can also enjoy an immersive experience with seamless 8K streaming in real-time, reduced render times, ultra-fast simulation solving, quick assembly rebuilds and smooth interactivity with 3D assets all without having to scale to a dual socket system.
It also supports ThinkStation Diagnostics 2.0 for real-time alerts, Lenovo ThinkShield customizable security platform, AMD Secure Processor to ensure data and application integrity, and AMD Memory Guard to enable full memory encryption to protect against advanced physical attacks.
Stephen Sequeira – Director, Enterprise Business, Lenovo India said, "With the ThinkStation P620 we aim to deliver a professional-grade solution that can be customized to the needs of the modern-day user, and get most of the complex jobs done faster. We have worked closely with AMD to build a workstation which is versatile, extremely scalable, has all the modern-day enterprise-grade features, certifications and security, to give the users the support they need. It is ideal for power users across sectors – starting from 3D artists, game developers, to architects and engineers – to help them design, edit, build experiences, simulate and visualize products more efficiently."
Features:
Powered by AMD Ryzen Threadripper PRO  (up to 4.0GHz; up to 64 Cores)
Operating System(Windows 10 Pro, Ubuntu Linux , Red Hat Enterprise Linux (certified) )
Dimensions: (mm): 165 x 460 x 440 , (inches): 6.5 x 18.1 x 17.3
Chipset: AMD 2019 Premium Chipset BXB-B
Chipset: AMD 2019 Premium Chipset BXB-B
Graphics:  Up to 2 NVIDIA Quadro RTX 8000 Total Memory , Up to 512GB DDR4, 3200MHz
Memory DIMM Capacity: 16GB / 32GB / 64GB, 8 DIMM Slots
Power Supply: 1000W, 92% efficient
Front Ports: (2) USB 3.2 Gen 2 Type-A (2) USB 3.2 Gen 2 Type-C (1) Mic/Headphone ComboJack
Rear Ports: (4) USB 3.2 Gen 2 Type-A (2) USB 2.0 Type-A (2) PS/2  (1) RJ-45 10 Gigabit Ethernet  (1) Audio  Line-In  (1) Audio Line-Out  (1) Microphone-In
Weight: Max configuration: 52.91lbs (24kg)
Lenovo ThinkStation P620 will be available at the starting price of INR 3,99,000. Customers can configure to order (CTO) this device from Lenovo.com. They can avail a 3-year standard after sales warranty and an upgradable warranty up to 5 years, as well as avail Lenovo Premier Support.