LG Electronics has launched the LG WashTower in the Indian market. The WashTower is an ideal solution for laundry and has been tailored to suit a diverse range of living spaces. It is available in a compact size (600 mm x 1655 mm x 660 mm) (W x H x D). The LG WashTower is available in Green/Beige colour combination.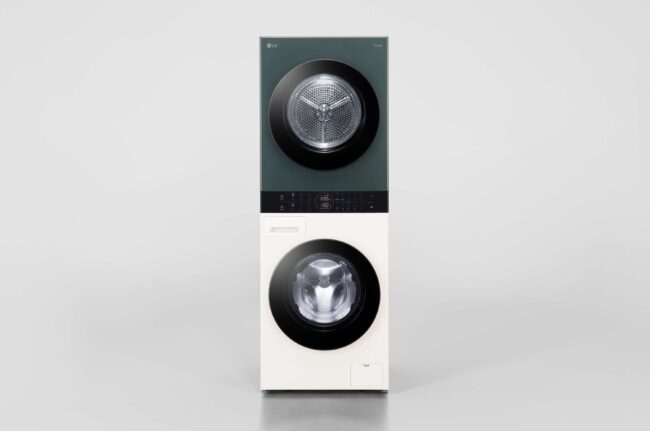 The LG WashTower features an innovative unibody design. The Center Control Panel, ensures easy access and control for users. This ergonomic design not only maximizes space utilization but also enhances the aesthetic appeal of your laundry area.
The WashTower is equipped with advanced intelligence features that streamline your laundry tasks. AI DD (Auto Sense AI DD) technology identifies the most suitable washing pattern for your clothes, providing them with the utmost care. The 'Prepare to Dry' option, combined with Quick Wash and Quick Dry, completes laundry in just one hour, adding an extra layer of convenience to the daily routine.
LG WashTower also offers an advanced cleaning experience like no other. With the TurboWash360 feature, laundry can be thoroughly cleaned in a mere 39 minutes, ensuring clothes remain fresh and vibrant while saving time. LG Allergy Care cycle reduces house dust mites, providing a new level of confidence and comfort in wearing freshly clean & completely dried clothes.
Moreover, the Smart Pairing feature ensures that the dryer's cycle automatically syncs with the washer's settings, making the transition from washing to drying a seamless process.
According to LG, their WashTower is a game-changer in the Indian laundry industry, combining innovative design, intelligent features, and advanced cleaning capabilities. The MRP of the LG WashTower is INR 2,75,000.
Commenting on the launch, Mr. Hong Ju Jeon, MD- LG India, said, "The LG WashTower is a remarkable milestone in the world of laundry solutions. It seamlessly combines hardware and software, offering a laundry experience that's not only efficient but also space-saving and visually appealing. With its AI-driven technology, the WashTower takes the guesswork out of laundry, ensuring that your clothes are handled with the utmost care."