Logitech has unveiled today two new products in India- Brio 500 webcams and Zone Vibe headphones which are ideal for hybrid workers.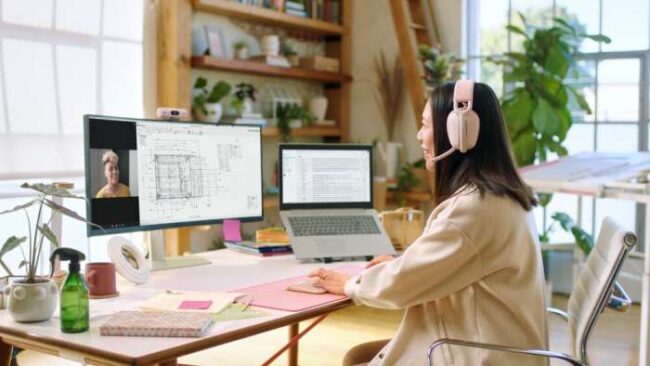 Brio 500 Webcams come with the Show Mode feature that makes it easy to share sketches or other physical objects on the desk. With an innovative mounting system and built-in sensor that allows users to tilt the camera down to focus on objects, Brio automatically flips the image to render the correct orientation into video calls.
Stylish design and fashionable colors–graphite, off-white, and rose–give individuals the freedom to customize their workstation to suit their personality and taste. RightSight technology (enabled through Logi Tune) automatically frames the user, even when moving around, while built-in innovations like RightLight 4 automatically correct substandard lighting.
Logitech Zone Vibe series are the first wireless headphones in the market to combine business-grade performance with comfort, style, and affordability. Also available in graphite, off-white and rose colors, they are designed to be comfortable for all-day collaboration with colleagues and connecting with family. These lightweight over-the-ear headphones weigh just 6.5 ounces, and feature soft-to-the-touch knitted fabric and memory foam.
The Brio series is plug-and-play, compatible with most video conferencing platforms and certified for Microsoft Teams, Google Meet, and Zoom. Logitech Sync integration with Brio 505 allows IT admins to update firmware and troubleshoot problems so hybrid teams can collaborate without missing a beat.
Zone Vibe Wireless presents the opportunity to offer employees enterprise-grade audio that's easy to use and looks stylish for multiple types of users. And because of compatibility with video conferencing platforms and the ability to push updates through Logi Tune and Logitech Sync, IT has fewer hassles and help desk tickets to manage.
Brio 500 series and Zone Vibe headphones are certified carbon neutral, which means the carbon impact of the products has been reduced to zero due to Logitech's investment in carbon-offsetting and removal projects.
The Brio 500 webcam series is priced at INR 14999 and Zone Vibe 100 is priced at INR 12495.