MediaTek has announced that it will be demonstrating a full ecosystem of production-ready devices featuring the next generation of wireless connectivity for the first time at CES 2023. These products based on Wi-Fi 7 technology will enable variety of devices in several product categories, including residential gateways, mesh routers, televisions, streaming devices, smartphones, tablets, laptops, and more.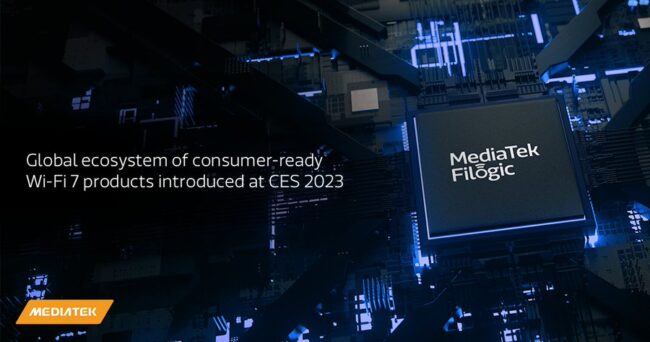 According to MediaTek, Wi-Fi 7 utilizes record-breaking 320MHz channel bandwidth and 4096-QAM modulation to greatly improve overall user experience. Multi-Link Operation (MLO) also enables the Wi-Fi connection to aggregate channel speeds and alleviate link interruption in congested environment for time-demanding applications.
Using a 6nm process, MediaTek's Wi-Fi 7 solution offers a reduction in main power consumption by 50%, a 25x reduction in CPU utilization, and 100x lower MLO switch latency when compared to competing options. 4T5R and penta-band mesh are also included to address a larger area of coverage and higher number of linked devices.
The devices on demonstration will utilize MediaTek's latest Filogic chips, which combines a Wi-Fi 7 access point technology to broadband operators, retail router channels and enterprise markets; and the Filogic 380 chipset, designed to bring Wi-Fi 7 connectivity to all client devices, including smartphone, tablet, laptops, TVs, and streaming devices.
"Last year, we gave the world's first Wi-Fi 7 technology demonstration, and we are honored to now show the significant progress we have made in building a more complete ecosystem of products," said Alan Hsu, corporate vice president and general manager of the Intelligent Connectivity Business unit at MediaTek. "This lineup of devices, many of which are powered by the CES 2023 Innovation Award-winning Filogic 880 flagship chipset, illustrates our commitment to providing the best wireless connectivity."