At the Cloud 11 event, OnePlus Featuring 81 Pro Keyboard which is mechanical keyboard and is fully-customizable, was also announced. It is the first keyboard in the industry to feature Marble-mallow keycaps, which use a patented thermoplastic elastomer to produce a springy bounce with each press and give users optimal comfort and functionality as explained by the brand.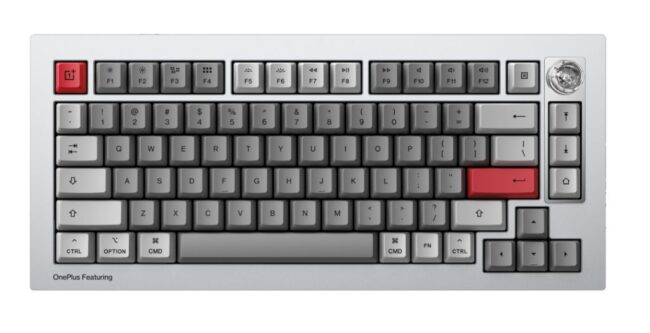 OnePlus has worked with leading keyboard brand Keychron to create a keyboard layout and connection that synchs with multiple operating systems, including MacOS, Windows and Linux.
The keyboard has meticulously crafted aluminium body which claims to deliver a lightweight yet flawlessly responsive experience. Ultra-precise CNC aluminium manufacturing evokes a refreshing coolness while the robust build is crafted for durability.
This keyboard will be available in April, and the pricing will be announced at that time.
Detailed Specifications:
Color
Dark grey/Light grey
Frame Material
Aluminum
Number of keys
81
Switch type
Mechanical
Layout
ANSI (US) Fully Assembled
Switch face
South-facing RGB
Compatible system
Mac/Windows/Linux/Android OS/iOS
Frequency range(e.i.r.p)
2402~2480MHz
Max. Output power
4dBm
Battery
4000mAh
Bluetooth working time (RGB)
Up to 100 hours (Lowest brightness)
Charging time
Around 5 hours
Charging port
USB Type-C
Mode
Bluetooth / Wired
Bluetooth version
5.1
Bluetooth operating distance
Within 10 meters (open space)
Operating environment
-10 to 50°C