OnePlus has displayed its first OnePlus 5G prototype smartphone powered by Qualcomm Snapdragon 855 Mobile Platform at MWC (Mobile World Congress). The company has announced that they will also be amongst the first OEMs to launch smartphones powered by the Qualcomm Snapdragon 855 Mobile Platform in India, and plans to work with Qualcomm on 5G trials.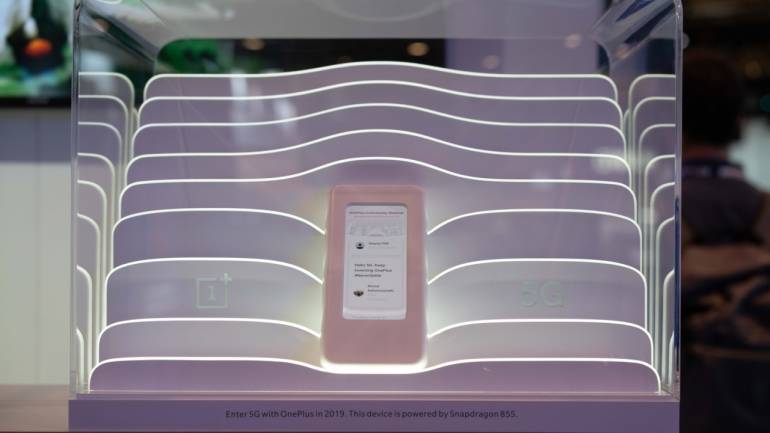 OnePlus will be among the first smartphone companies to feature the new flagship with the Snapdragon 855, to provide users with unmatched imaging, gaming, and intelligence for the new decade of wireless experience as further stated by OnePlus.
Speaking at the occasion, Pete Lau, Founder and CEO, OnePlus, said, "We have been loyal to Qualcomm's 800-series Snapdragon chipsets since the release of our very first flagship device. This strong partnership with Qualcomm makes us believe that we could bring the best 5G device to the world."
OnePlus began research on 5G in 2016. A year later, in 2017, the company started working with Qualcomm on OnePlus' 5G device development. In August of 2018, the OnePlus 5G located in San Diego, in the US. It has been working closely with Qualcomm for two years to perfect the technology to meet OnePlus' standards of 'Fast and Smooth' as further stated by the company.
At MWC, for the first time, OnePlus showcased its 5G prototype smartphone powered by the Snapdragon 855 chipset at Qualcomm's booth. Users could also experience cloud-gaming using a stable 5G network and 'Say Hello" to the OnePlus community users there.
OnePlus recently announced that it is also cooperating with Qualcomm to launch the?"5G Apps of Tomorrow"?challenge among global developers. The winners will be awarded a total of Euro 250,000 in cash,?as well as other supporting resources.