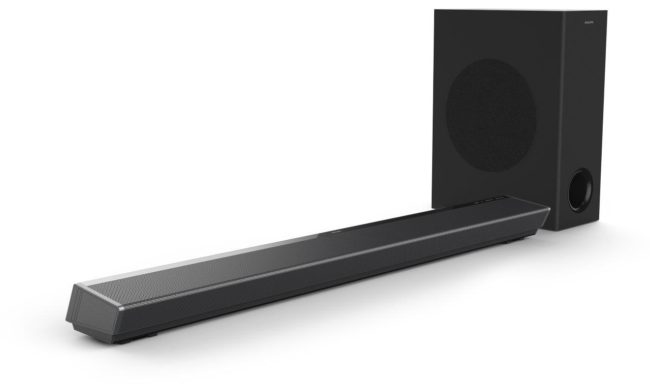 At a showcase event held in New Delhi, Philips Audio has launched soundbars that can be easily connected with the television and gaming consoles. The Philips TAPB603 soundbar boasts of 3D sound as it comes with with Dolby Atmos. This soundbar is wireless and has connectivity of Bluetooth for enabling music streaming from all music devices. It renders home cinema sound experience and is priced Rs. 31,990. This will be available on all leading online and offline retail channels at the end of the year.
Philips Audio also showcased two more soundbars – Philips HTL3320 & HTL3310 which are stylish and compact and can be connected with television, DVD players, gaming consoles and MP3 players. These low-rise and sleek speakers take sup minimal space and allows flexible placement on the wall or as table-top under the TV. They are equipped with twin tweeters and incorporate virtual surround sound technology for an immersive surround sound experience. The soundbars will be available at INR 20,990 and INR 18,990, respectively.
Philips SHB2505 and SHB2515 headphones were also showcased which will be available at INR 7,999 and INR 8,999, respectively. Also showcased were Philips TAPH802 and TAPN402 earphone which will be available at INR 10,990 and INR 7,990, respectively. The Philips TAPH802 Hi-Res Audio wireless headphones has a sleek design with 30 hours of play time. On the other hand, the waterproof Philips TAPN402 earphones come with a slim neckband for convenient use having 14 hours play time and rapid charge feature. Also interesting product which was showcased was Philips BT6620 Bluetooth speakers with high-powered sound. It has splash-proof design and cool lights blink on it to the rhythm of songs, adding fun and excitement to tunes. It comes in three colours of blue, black and red and will be available at INR 5,990.