Realme has also launched today an audio product – Realme Buds Q2 with Active Noise Cancellation. With active noise cancellation of up to 25dB, the realme Buds Q2 monitors external noise through a feed-forward microphone, allowing the earbuds to send out a reverse anti-noise sound to cancel it out. It can filter out most low-frequency noises, including the rumble of airplanes, the subway, and other transportation tools. It also cancels out the noise of home appliances so that you do not get disturbed while listening to the music as claimed by Realme.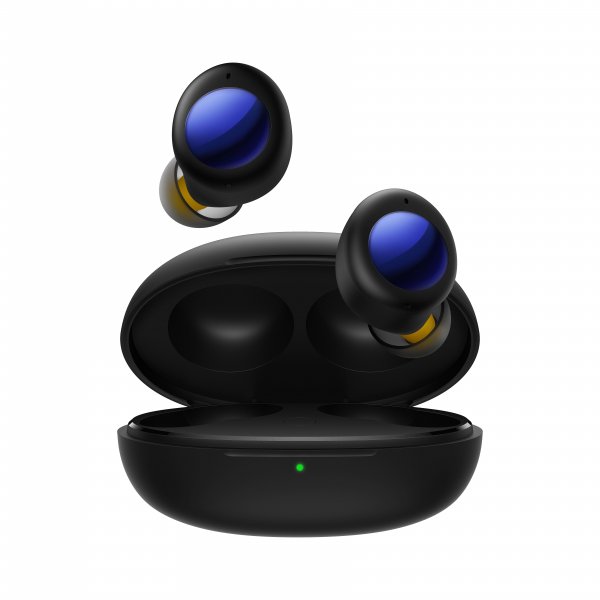 realme Buds Q2 also comes with Transparency Mode, which enables users to listen to the ambient sound with one click and talk to others without taking off your headphones even once. Its dual microphones form a powerful noise reduction system supported by the ENC noise cancelling algorithm, which significantly reduces surrounding noise during a call, allowing the other person to hear more clearly and have a more engaging conversation.
The Buds Q2 come with 10mm Bass Boost Driver along with a realme bass enhancement algorithm which makes the bass deeper and richer. It also comes with AAC High-Quality Audio technology, which is an encoding algorithm with a high compression rate, provided by Dolby Laboratories which offers the users higher fidelity and a better listening experience.
realme has also upgraded Game Mode in Buds Q2 with latency as low as 88ms, the industry's lowest. That's a reduction of 35% compared to the previous generation. Now, when the user plays games, his performance won't be impacted by sound and picture not syncing.
The battery has also been boosted significantly on the realme Buds Q2 and is claimed to last around 20 hours with ANC turned on the same length like most other buds on the market in normal operation. With ANC turned off, the buds can last up to 28 hours, representing a 40% increase from the 20 hours provided by the previous generation. realme Buds Q2 also supports fast charging and with just 10 minutes of charging time, one can get 180 minutes of playback.
Users can customize their realme Buds Q2 with the realme Link App , set up touch functions to turn ANC on/off, enter/exit Game Mode, control EQ settings, and more. realme Buds Q2 comes with various Intelligent Touch Controls that include Double-tap: Play/Pause music or Answer a call; Triple-tap: Go to next song; Press and hold one side: Reject call and Press and hold both sides: Switch between Noise Cancelling mode and Transparency mode. The Buds Q2 supports IPX5 water resistance rating to prevent splash, rain, and sweat. These Buds can be paired easily with Bluetooth 5.2.
The realme Buds Q2 comes in Active Black and Calm Grey colours. Priced at INR 2,499, it will go on sale from 30th June 12 noon onwards on realme.com, Amazon and mainline channels.

·