redBus, online bus ticketing platform, has today announced the launch of rPool, a Carpooling and Bikepooling service on its platform. This new service allows office goers in the national capital to avail and offer rides in their personal cars and bikes, while commuting between home and their workplace. rPool can be accessed directly from within the redBus mobile app.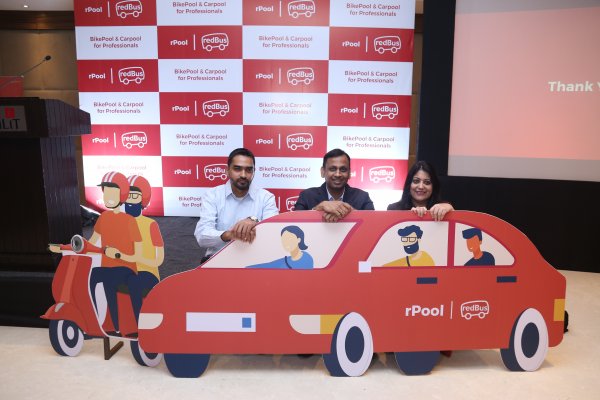 rPool is integrated into redBus app and is a sophisticated carpool and bikepool solution for working professionals, enabling them to offer and avail rides, between their homes and offices. It uses advanced technology to connect ride givers and ride takers in the fastest and most convenient manner possible. The matching algorithm ensures that ride givers don't have to deviate or take any detours from their daily work route and ride takers get to travel the maximum distance of their commute as a part of the shared ride.
Salient Features of rPool:
Verified Profiles via multiple checks: In order to build a trusted community of ride givers and ride takers, rPool is restricted to working professionals undertaking daily commute. Users are verified through their mobile number and their organization's corporate email id/govt. approved id.
Safe, secure and, private: redBus has introduced phone number masking which enables users to connect with each other via the redBus app without revealing their phone numbers to each other thus ensuring privacy. Also, women commuters can choose to book rides with women ride givers only, for enhanced safety.
Attractive Incentives: Ride givers receive incentives in the form of reward points that can be redeemed at fuel stations and Amazon Pay. Ride takers pay much less than autos/cabs for the same distance.
User profiles and feedback mechanism: Creation of user profiles based on user reviews, allowing participants the option of choosing the people they wish to travel with, based on their ratings.
Insurance for all riders: rPool also covers its rides through complementary insurance provided by its insurance partner in case of accident.
According to redbus, with the right implementation and adoption at scale, carpooling can significantly reduce vehicular traffic during peak hours in urban cities. Research suggests that if 4 people share a car for 10 Kilometres, about 4 to 5 litres of fuel could be saved, thus reducing CO2 emissions by 9 to 11 Kgs. With a growing user base for redBus in the north, especially in NCR, the company is poised to scale rPool at pace, positively impacting urban commute in Delhi.