As you might be aware of the fact that Microsoft has released a brand new version of operating system code named Windows 7 and after a lot of beta testing, the first Release Candidate is now available for download via the official microsoft page.
Earlier there were some confusions regarding the availability of this Release Candidate however, now, according to the new reports presented by Microsoft, it has been declared that the new Windows 7 release candidate is available for download until mid-august ( Although, Microsoft will CONTINUE to provide activation keys to the users !) .
The release candidate once installed is set to auto-expire on 1 June 2010, although users will get annoying bi-hourly restarts starting from 1 March in an attempt by Microsoft to make the users pay for the full version of the new Windows which will be made available from 22 October this year.
The beta version has proved to be a big hit for the company as according to sources it is the best operating system presented by Microsoft ever because of its rich features and extremely light weight making it possible for low configuration machines to run it smoothly.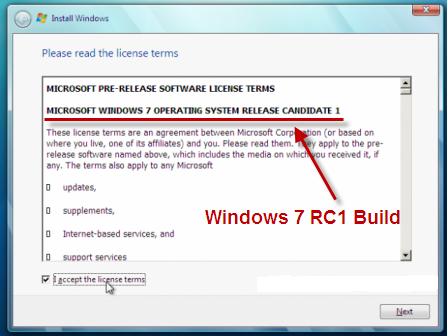 We will advice those people who are still thinking to download the RC that they must rush, before Microsoft withdraws the download option. Besides i would also like to mention that people who are still running the Beta version should upgrade their Windows to the new release candidate as the Beta software will eventually stop working on 1 august, if the reports from Microsoft are to be believed. There are still about 8 weeks left ( Counting from the day of writing this post ) before the RC disappears.
The windows 7 RC can be downloaded from the official site Here.
Then it's just a case of burning an ISO file to DVD and installing.