Xiaomi India has launched today Mi Air Purifier 3, the latest in the company's line-up of smart air purifiers.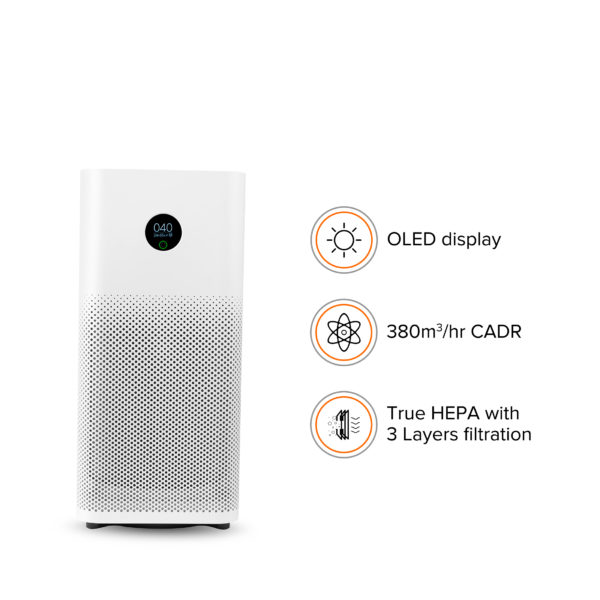 Mi Air Purifier 3 is the successor to the Mi Air Purifier 2S which was launched last year. It features triple-layer filtration which includes a primary filter, a true HEPA filter and an activated carbon filter. The primary filter is responsible for intercepting large particles in the air (PM10 and above); the true HEPA filter is capable of eliminating 99.97% of small pollutants (PM2.5), while the activated carbon filter is capable of ridding the air of formaldehyde, toxic substances and bad odour. The 360° cylindrical filter design allows suction of air from all directions as stated by Xiaomi in its press statement.
Xiaomi further claims that Mi Air Purifier 3 has a CADR (Clean Air Delivery Rate) of 380m³/h which makes it capable of delivering 6333 litres of purified air every minute with a coverage area of upto 484ft2.
Mi Air Purifier 3 features a minimalist design featuring a touch-enabled OLED display which shows the AQI (Air Quality Index) in real-time. Mi Air Purifier 3 can be connected to the Mi Home app allowing real-time AQI monitoring over the air.
Mi Air Purifier 3 is available for INR 9,999 on Mi.com starting now with the filter available for INR 2,199. Mi Air Purifier 3 will be available on Amazon and Flipkart starting 7th November 2019.
Xiaomi's air purifier portfolio now comprises of Mi Air Purifier 2C priced at INR 6,499 and Mi Air Purifier 3 priced at INR 9,999.