Xiaomi India today launched Mi Electric Toothbrush T300 for oral healthcare. Equipped with high-efficiency magnetic levitation sonic motor, the toothbrush features high-density, anti-corrosion, metal-free brush head with EquiClean auto-timer for a smart brushing experience. It is powered by a built-in 700mAh lithium battery, that provides an operating life of 25 days on a single charge as stated by Xiaomi.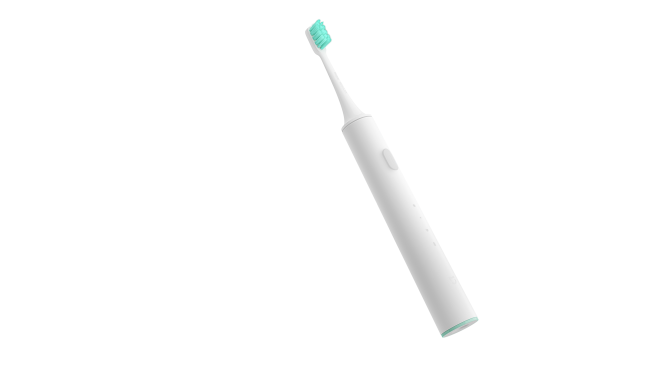 Mi Electric Toothbrush T300 is powered by a high-efficiency magnetic levitation sonic motor which generates high-frequency vibrations of over 31,000 times/minute and torque of over 230 gf.cm (gram force centimetres). It ensures efficient transfer of power to the brush head during the entire process of brushing. The design ensures that Mi Electric toothbrush T300 reaches all gaps and corners to remove plaque, thus providing deeper cleaning than a manual toothbrush.
The brush head uses anti-corrosion, metal-free high-density bristle technology which obliterates the chance of metal corrosion or dirt getting trapped between the grooves of metal plating, making this brush healthier and more durable. It uses high-quality soft Tynex StaClean antimicrobial bristles created by the American company DuPont, which are 40% denser. Each filament undergoes a polishing process to create bristles that are smooth and round to ensure they don't irritate gums or scratch the surface of the teeth.
The brush comes with dual pro brushing modes – Standard mode and Gentle mode. The EquiClean auto-timer in the brush reminds users to change brushing sides by pausing every 30 seconds.
Mi Electric Toothbrush T300 uses Type C charging port and uses an LED indicator to notify the battery and charging status. The use of a multiple injection molding process on the brush ensures that every part of its body is joined with a "sealed" connection. This creates a seamless exterior with an IPX7 water resistance rating. The body has a matte white surface with added texture and friction. This creates a simple and clean exterior, combining convenience and elegance. The bottom part of the toothbrush features interchangeable colored ring design to ensure that multiple toothbrushes don't get mixed up.
Mi Electric Toothbrush T300 will be available on Mi.com through crowd funding starting 20 February, 2020 at 12 noon. The toothbrush will retail for INR 1299.