Indkal Technologies today announced the launch of Acer H PRO Series televisions which are upgrades on the greatly popular H series 4K-UHD models that were launched last year. Another major improvement announced was on the software, Acer H PRO series now comes with Google TV built in over the Android 11 that was available on H series last year. The H PRO series comes in 43-inch, 50 inch and 55-inch sizes.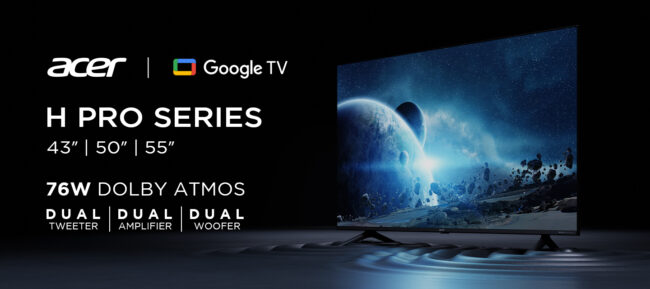 While the H Pro series like its predecessor is loaded with all the top end features such as Dolby Vision and Atmos, MEMC, 4K-Upscaling, WCG spectrum which gives 1.07 billion colours, the big change is the major upgrade on the speaker system and audio output. Acer H PRO series televisions now sport an ultra-strong True 76-Watt Pro unique speaker system with an introduction of dual amplifiers, dual tweeters and dual woofers.
Acer H PRO Series televisions also boasts advanced audio technology, including a dual amplifier for enhanced audio performance. This technology empowers the H PRO Series to generate dynamic and precise sound reproduction, delivering a lifelike audio experience. The H PRO Series features Dual woofers and Dual tweeters. This combination creates a perfectly balanced audio output, enriching the listening experience with detailed high frequencies and deep, resonating bass.
The Acer H PRO Series televisions seamlessly integrates with Google TV. With Google TV, viewers can effortlessly navigate through their favourite streaming services, control their smart home devices, and discover a world of entertainment at their fingertips.
"The H PRO Series is the next chapter in the evolution of televisions as holistic audio-visual devices. For a long time, the audio in audio-visual was ignored and sound quality in televisions in most brands has remained just a call out. We disrupted that line of thought last year with the H series and found great success with a product that not only delivered amazing visual experience but an exceptional audio experience as well. With the launch of the H Pro series, we have taken the game to a whole new level. With the most advanced features and technology on picture quality, the introduction of an actual 76-Watt speaker system with precisely tuned amplifiers, woofers and tweeters, the experience of sound from the H Pro series will deliver a performance like no other television in the market" said, Anand Dubey, CEO & Founder, Indkal Technologies.