Acer today unveiled its latest addition to the gaming laptop lineup, the Nitro V. This gaming laptop boasts the NVIDIA GeForce RTX 4050 graphics processing unit that comes with a dedicated 6GB GDDR6 VRAM. This laptop comes with a refresh rate of 144Hz. Furthermore, the 3ms overdrive response time maximizes the sense of immersion during gaming sessions. The Nitro V also comes with both the NVIDIA GeForce RTX 3050 and the NVIDIA GeForce RTX 2050, and these graphics are expected to become available at a later date.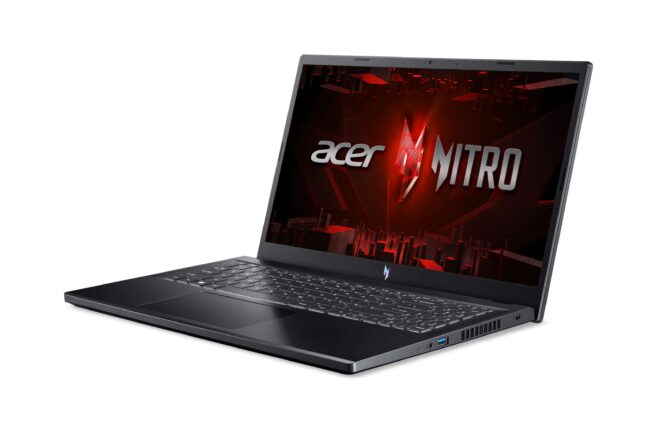 The Nitro V is powered by the latest 13th Gen Intel Core i5 processor. This laptop comes with 15-inch display with IPS (In-Plane Switching) technology for an immersive visual experience. The Nitro V's dual-fan, dual-intake cooling technology optimizes its cooling capacities in order to eliminate throttling and achieve full CPU and GPU utilization, ensuring peak performance while gaming.
One of the noteworthy features of the Nitro V laptop is its focus on Artificial Intelligence (AI). It comes with Acer Purified View and Purified Voice noise reduction technology powered by AI. This technology allows gamers to immerse themselves in the virtual world with exceptional sound precision, creating an experience akin to being at the helm of a spaceship command center.
Additionally, the laptop has other features including Wi-Fi 6, HDMI 2.1, and Thunderbolt 4 support. These functionalities make it effortless for gamers to connect to external displays and peripherals, ensuring a seamless and uninterrupted gaming session. Furthermore, the laptop's inclusion of memory slots and DDR5 storage slots enhances its performance, enabling faster data access and transfer rates.
Sudhir Goel, Chief Business Officer at Acer India, shared his excitement about the Nitro V Series: "The Nitro gaming series has garnered immense popularity within the gaming community, standing as a testament to its exceptional blend of power, performance, and aesthetic appeal. With the introduction of Nitro V, Acer continues to push the boundaries of what mainstream gamers can expect from their laptops. This latest addition is a perfect synergy of enhanced capabilities, additional features, and an unparalleled immersive experience, all bundled within an affordable price range. We are delighted to give gamers the resources they need to succeed by reimagining the potential of gaming laptops with the Nitro V Series."
The Nitro V starts at Rs.76990 and it is available in all Acer exclusive stores, Acer online
store, Amazon, Flipkart, and in Multi-brand outlets.