Amazfit has launched today GTR 3 and GTS 3 series smartwatcg in India. The GTR 3 series includes GTR 3, GTR 3 Pro and GTS 3. The GTS 3 and GTR 3 Pro will be available on Amazon and Amazfit's official website and GTR 3 on Flipkart and in.amazfit.com.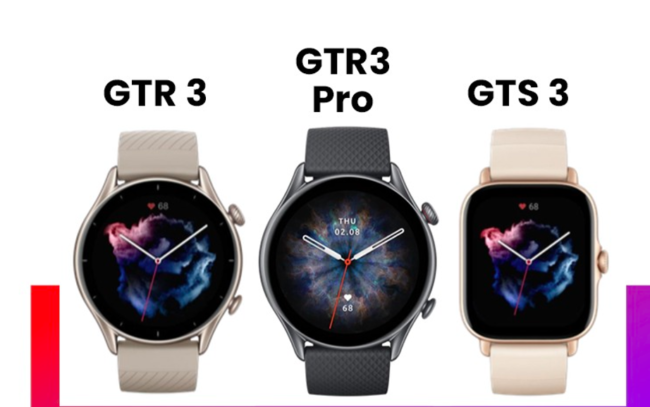 All three smartwatches come with health, fitness and lifestyle features and are powered by Zepp OS which is light and smooth to navigate. These smartwatches are compatible with Android and iOS devices, and connects to popular health platforms, like Apple Health or Google Fit, to sync your health data, and Strava, Relive, Runkeeper, and TrainingPeaks for shareing sports data.
Salient Features of these smartwatches include:
Customization: You can choose from upto 150+ vibrant watch faces with matching always-on display as well as dynamic effects and smooth animations. Wearers will even be able to design their own watch faces and mini apps with the app developer kit (coming soon).
4-in-1 easy health measurement: With built-in 6PD (photodiodes) BioTrackerTM PPG 3.0, amazfit smartwatches have the ability to test four health metrics in one tap, which includes heart rate, blood-oxygen, stress level and breathing rate in 45 seconds.
Easy 24-hour health management: These smartwatches monitor your heart rate all day. With alerts for abnormally high or low heart rates, as well as tracking heart rate zones so you can optimize your workouts
Easy to understand: Your current health and wellbeing are calculated in a flash and converted into a single PAI score, collated from data based on your past seven days of activity.
Advanced sleep tracking: These Amazfit smartwatches monitor your sleep and makes it easier to understand your sleep patterns and improve sleep quality. Once synchronized to the app you can learn more about how long you spend in light and deep sleep stages, including the Rapid Eye Movement (REM) sleep stage, and even daytime naps.
Advanced menstrual cycle tracking for females : After recording your menstrual period, you can intelligently and intimately predict the time and length of the following menstrual and fertile window, so you can stay on your game without any surprises.
Efficient, quick-access screens: Save time, customize what matters to you and access Shortcut Cards to flow through your day with peace of mind. Get easy access to key information with a swipe or a tap.
Voice control: With Alexa, you can set an alarm, ask a question or more when online, and when offline, one can use the Offline Voice Assistant to open a sports mode or health feature, or even access Home Connect to control smart home devices.
Swift and accurate GPS: These watches provide accurate location tracking based on five satellite systems.
Options to personalize: You can upload a photo to customize your watch face background, or choose from 15 dynamic animated designs to match your outfit
Motivation tools: You can track your runs with the optional Virtual Pacer, then optimize your progress and recovery with the PeakBeats performance algorithm.
Life admin tools: You can manage your day with message notifications, sedentary and drink water reminders, calendar, events and to-do lists, weather forecasts, Bluetooth remote camera control, and more.
Amazfit GTR 3 will be available for INR 13,999/- on Flipkart and in.amazfit.in in two variants: Thunder Black, Moonlight Grey
Amazfit GTR 3 Pro will be available for INR 18,999/- on Amazon and in.amazfit.in in two variants: Brown Leather and Infinite Black
Amazfit GTS 3 will be available for INR 13,999/- on Amazon and in.amazfit.in in three variants: Graphite black, Terra Rose and Ivory White
Amazfit is offering INR 1000 off on GTR 3, GTS 3 and GTR 3 Pro during the first 3 days of the sale i.e 20th, 21st and 22nd October 2021.
Detailed Specifications:
| | | | |
| --- | --- | --- | --- |
| | GTR 3 Pro | GTR 3 | GTS 3 |
| Screen Size | 1.45" (round) | 1.39 (round) | 1.75" (square) |
| Screen Type | AMOLED Ultra HD | AMOLED HD | AMOLED Ultra HD |
| Screen to body ratio | 70.6% | 66% | 72.4% |
| Resolution | 331 ppi | 326 ppi | 341 ppi |
| Battery (typical usage) | 450 mAh (12 days) | 450 mAh (21 days) | 250 mAh (12 days) |
| Speaker | Yes | No | No |
| WiFi | Yes | No | No |
| Music Storage | Yes (2.3GB) | No | No |
| Bluetooth calls | Support | No | No |
| Weight | 32g | 32g | 24.4g |
| Sports modes | 150+ | 150+ | 150+ |
| Classic Navigation Crown | Yes | Yes | Yes |
| Automatic Recognition of Sports | Yes | Yes | Yes |