Ampere Electric, a wholly-owned subsidiary of Greaves Cotton, is giving a grand bonanza of up to Rs. 5,000 with a host of other benefits on Ampere e-scooters to celebrate its 12 years of offering sustainable mobility solutions. Besides this, the company is also giving additional benefits which include extended warranty up to 5 years in high-speed models and up to 3 years in other variants at a nominal price & consumers can also avail 1+5 years bumper to bumper vehicle insurance cover at attractive pricing.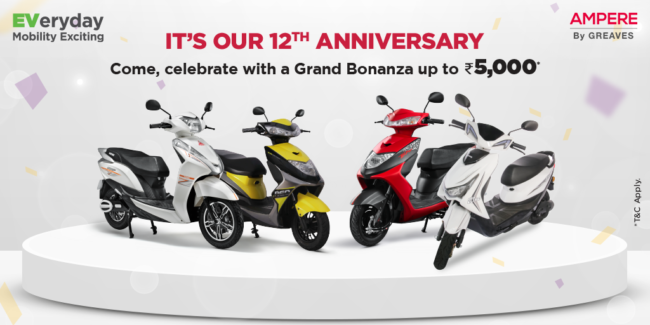 According to Ampere, this scheme follows their eco-friendly "Kal Ko Bachao" consumer support campaign earlier to sensitize customers on saving the environment, with an attractive discount offer on all Ampere e-scooters and customised low EMI options. The offer will benefit Corona Warriors- Doctors, Government employees, other individuals in essential services, working professionals, healthcare professionals, students, senior citizens, traders and micro-entrepreneurs who can switch to eco-friendly, low maintenance and light weight Ampere electric scooters for last mile connectivity. With COVID pandemic, protection of health & wealth has assumed significant importance & Ampere electric scooters are ready to support all eco-conscious B2C & B2B customer groups with a unique value proposition.
Ampere recently announced special scheme called START to enable the small business begin their operations post lockdown & contribute towards nation's economy. The company has contributed significantly to the sustainability move, enabling India run on clean last mile. The company reinforces its commitment to strengthen the manufacturing operations in India. With this drive of social inclusion & focus on diversity, the company continues to provide gainful employment directly & indirectly through its network & factory establishments. Ampere vehicles has been winning hearts with comprehensive EV ecosystem support services, affordable & reliable escooters like high-speed EV 'Zeal', along with medium to optimum city speed models like Reo Elite, V-48 LA, Magnus 60, Reo LA and REO Li, adds the statement of the company.