Baseus, digital accessory brand of China, has forayed into Indian market and launched today digital accessories. The company has entered into an exclusive partnership with Teleecare Network (an Optiemus Group Company) for distribution and marketing of its produccts in India. Few products announced today are: TWS Earpods, Smart 2-in-1 Dual Wireless Charger, Digital Display Power station – 30000mAH and Alexa enabled S17 Pro Wireless Sports Earphones.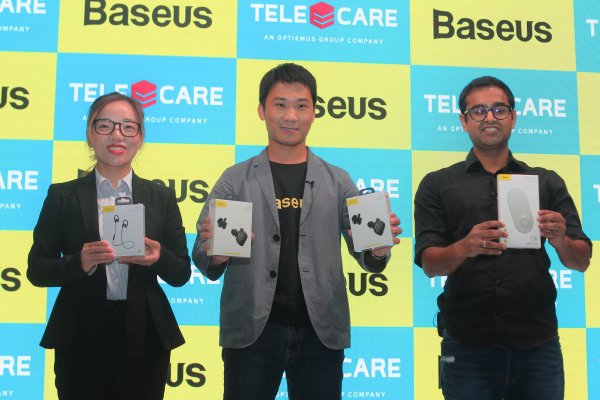 TWS EarPods, priced at Rs. 4499, are ipx4 splash and sweat proof and comes in a trendy look with ceramic finish. Its inner cavity helps in noise cancellation and makes it ultra- comfortable to wear. The triangular ear caps ensure that even while doing most rigorous activities, the EarPods stay on. It has an intelligent touch control and can connect two phones at once. With the Built-in intelligent chip, and the HD mic with precision noise reduction, the EarPods ensure clarity even in noisy surroundings. The intelligent chip also ensures up to 6 hours of music playback and 120 hours of standby time.
Alexa enabled Wireless Sports Earphones S17 Pro are priced Rs 3,999 and equipped with special silicon ear-hook that is designed for a more comfortable wearing experience, ensuring the earphone is stable to wear and won't fall even during strenuous exercise. It comes with over 200 hours of standby time and 7 hours of continuous music playback time. This device can be paired with Bluetooth (version 5.0) and is compatible with all leading android and iOS devices. It is IPX5 certified which makes it water resistant and this protects it from rain and sweat during workouts and during jogging or any sports activity. It comes with specially designed magnets to prevent from falling off.
Dual Wireless Flash Charger priced at Rs. 5499 enables a phone and apple watch to charge wirelessly at the same time. Any device which is QI compliant can be charged wirelessly with this device. It also comes with major safety protections such as overcharge, overvoltage, over discharge, anti-reverse, short circuit, electromagnetic field protect, and foreign metal detection safety.
Digital Display Power station priced at Rs 6999 and this 30000mAH power station is a powerhouse with a capability of charging any laptop with a type c port or any other compatible device. It comes with 3 input ports (1 x lightning, 1 x c type, 1 x micro) and 5 output ports (4 x usb, 1 x c type). The intelligent LED display shows the output, input voltage, speed, power delivery and the remaining battery percentage. This premium looking power station is packed with high-density Lithium-polymer battery inside that gives a Power Delivery of 33 W.