BenQ has announced the launch of Home Entertainment BenQ TK800 4K HDR High Brightness Projector at Rs. 1.99 lakhs. This Projector has USP of high visual brightness, balanced color performance, custom-tailored sports mode, and comes with an easy setup flexibility with modern style.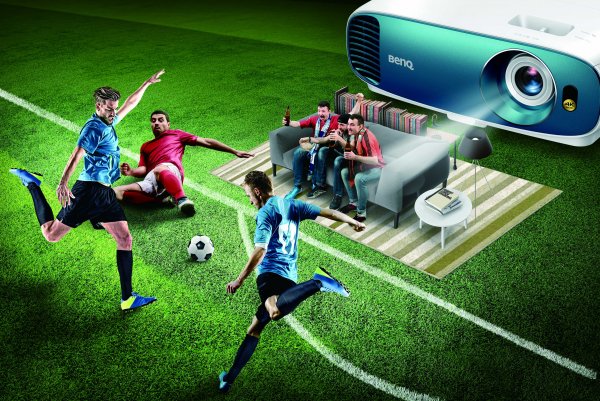 This Projector has 4K 3840×2160 UHD resolution with 8.3 million distinct pixels and is claimed to produce stunningly lifelike realism utilizing projector-optimized HDR to enhance brightness and contrast range with one-step image optimization and automatic HDR natural color rendition. TK800's innovative 4K color wheel achieves 92% of Rec. 709 color gamut in conjunction with 3,000 lumen high brightness for awe-inspiring projected picture quality in bright environments with ambient lighting such as living rooms and backyard parties as stated by the company in its press statement.
The TK800 offers dedicated Football and Sport audio-visual modes to deliver experiences as if viewing in person. Football Mode preserves natural skin tones while intensifying lush green grass, simultaneously clarifying the announcer's commentary among the cheering crowd of an open-air stadium. Sport Mode also prioritizes realistic skin shades while enhancing wood tones and vivid reds along with balanced greens and blues for indoor sports, with clear acoustical quality for the announcer's voice and details such as squeaking sneakers, referee whistles, and ice scraping under skates, as added by the company.
TK800 comes with an industry leading lamp life of upto 15000 hrs which is first time ever in any Home entertainment Projector. It is also supported by a 2 years onsite warranty across India
TK800's CinemaMaster Audio+ 2 sound system is newly upgraded with wider frequency range and 5-watt power, utilizing sophisticated materials such as an aluminum driver diaphragm and resonant sound chambers for delicate details, pure vocals, and resounding bass.
"With the ongoing IPL and upcoming FIFA world cup, the sports fever is at all-time high, TK800 is perfect to enjoy the world's greatest sporting events at the comfort of your own living room with family and friends," said Rajeev Singh, Managing Director of BenQ India. "With TK800, BenQ is bringing true 4K visuals with HDR, high brightness, and vivid color to gather with friends and family to immerse in the global spectacle. BenQ will continue to provide life-like experiences to its consumers through our enhanced technology."