Boult Audio has added Drift Plus smartwatch to its wearable segment. This smartwatch features a 1.85-inch HD screen with 500 nits brightness. It is built in a premium zinc alloy frame with an advanced IP68 water resistance feature.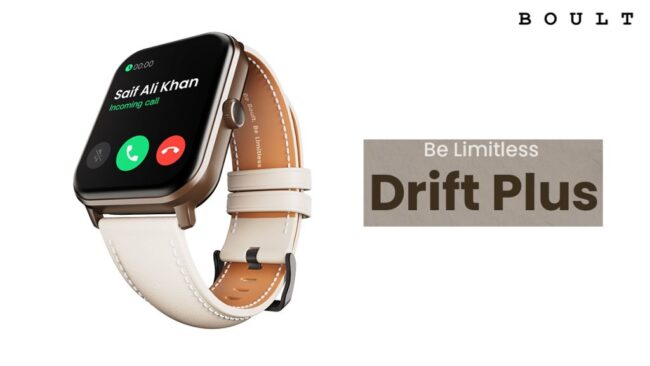 The Drift Plus comes with a 7-day battery life and fast charging technology. In just 15 minutes of charge, it can last for two days of standard usage.
One of the standout features of the Drift Plus is its seamless Bluetooth calling that lets users make and receive calls directly from their smartwatch. The watch also comes with 150+ watch faces and over 100 sports modes. In addition, Boult Drift+ Smartwatch comes with three mini-games to keep you entertained on the go.
This smartwatch is equipped with AI voice assistance and a complete health monitor enabling the users to track down their vitals like heart rate, blood pressure, SPO2, etc., right from their wrists.
This smartwatch is available in six colors: Tan, Icy Blue, Jet Black, Black Coffee, Denim Blue, and Snow Leather. Priced at INR 1499, this smartwatch can be bought on Flipkart and www.boultaudio.com.
Varun Gupta, Founder & CEO of Boult Audio, said, " We are delighted to introduce the Boult Drift Plus Smartwatch, a successor to our first-ever smartwatch, Drift. The new features and additions of the Drift Plus are intended to meet the needs of fitness enthusiasts and anyone with an active lifestyle. With its advanced water-resistance feature, our latest smartwatch edition of Drift is ideal for swimmers. We are confident that it will continue the Drift smartwatch's legacy of being the best-selling and fastest-selling smartwatch in the market. Our products are a testament to Boult's commitment to providing the finest user experience and innovation through the continuous incorporation of new technology."