This is a sponsored post written by me on behalf of CBTS. All opinions are 100% mine.
Wide Area Network (WAN) is crucial for any business looking to leverage scattered operation centers to enhance productivity and overall efficiency. WAN backed advantages of increased network size, easy data collaboration, and software & device sharing make WAN network a necessity for almost every business.
In an ideal scenario, WAN, with its connectivity, performance, reliability, and security benefits would serve its intended purpose alone. But this is not the case as the IT world has complex business requirements. Existing WAN networks suffer from complex deployments, need for dedicated skill set (and related financial investment). Performance tuning and application prioritizations are a major concern with the possibility of usage reporting, which has a high chance of going wrong if done incorrectly. Other factors such as risk mitigation, network expansions are also a cause of concern – especially considering the human and financial resource involvement with the need for dedicated talent procurement and general upkeep.
This is where Network as a Service (NaaS) comes into play. Fending off these bottlenecks, NaaS addresses these issues taking on each problem with an effective service backed solution. Offering a full featured managed service, NaaS scores with a simple, cost effective and advanced IT Network without the WAN induced complexity. Functionalities such as network switching, security, Wi-Fi, VPN, and SD-WAN all come as a packaged service with the option to scale based on individual use-case and business needs. Best of all, everything is accessible through a single unified interface!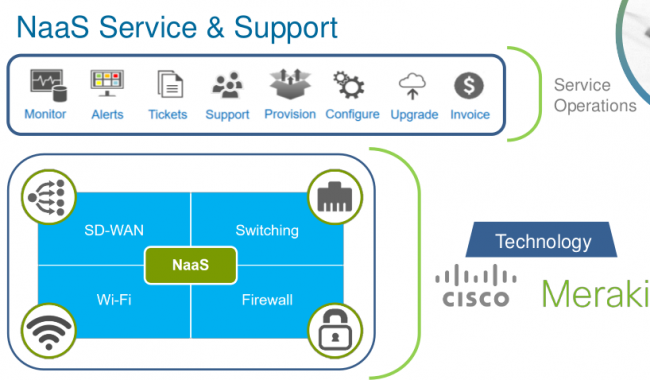 CBTS has gone one step ahead with NaaS and has developed a customized, fully managed networking solution with cloud integration, security, switching, Wi-Fi, management, monitoring, and SD-WAN (virtual WAN) available as a utility pricing model.
NaaS from CBTS is an optimized solution for fully connected business powered by SD-WAN. For the uninitiated, SD-WAN is a type of virtual WAN which essentially transforms public and private networks into secure, reliable WAN. Now there is a lot more going on but the general idea is to wrap everything intelligently to act as a WAN and, in the process, mitigating the challenges of managing traditional WAN.
CBTS's NaaS offering ensures that businesses with multiple remote locations do not have to spend additional costs for accessing customized networking capabilities. With their Single and Multi-site Location handling options businesses can continue to focus on their key strategies with CBTS handling all their custom IT infrastructure needs. This allows businesses to redirect the focus back onto the essential demands. Multi-site Location solution, on the other hand, provides full-stack deployment for connecting an unlimited number of branch locations over any type of connectivity.
Apart from the cost savings, CBTS pushes the envelope by offering dedicated deployment project managers giving IT departments a definitive breather. The ability to manage the entire WAN and LAN infrastructure from a single panel through intuitive tools makes life as a network admin easier as well!
Request a FREE Demo today!