Canon EOS M200 Mirrorless camera is now available in stores across India starting at an MRP of INR 43,995. The new EOS M200 has joined Canon's line-up of EOS M series mirrorless cameras that offer large APS-C sensors and serious performance in a diminutive form factor.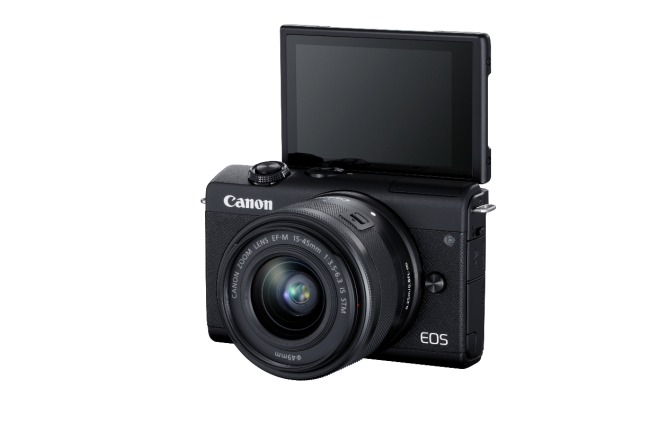 The EOS M200 has an advanced 24.1 megapixel APS-C sensor and coupled with Canon's powerful DIGIC 8 image processor allows users to capture high resolution images and 4K video with rich dynamic colours and the finest details. The ultra-fast DIGIC-8 processor ensures high image quality even in low light with minimum noise and grain, while performing multiple enhancements on both still and video.
With EOS M200, you can capture cinematic 4K video with a frame rate up-to 24p. With the built-in time lapse mode you can create beautiful time-lapse videos in stunning 4K resolution.
The EOS M200 is very social-friendly, particularly Instagram and creates amazing vertical videos which can played vertically on smartphones without the need of any editing apps. This cuts down on processing time since content can be created and posted on-the-go.
The EOS M200 is capable of fast and accurate autofocus using Canon's proprietary Dual Pixel CMOS autofocus. The advanced Eye Detection AF ensures that the subject's eyes are always in focus and continually tracks moving subjects in this way. This feature works for both photos and video and is great for Vloggers and anybody who is capturing people, portraits or street photography.
The EOS M200 features Wi-Fi and Bluetooth, allowing seamless connection to smart devices (smartphones and tablets) using the Canon Camera Connect app. The Bluetooth connection method is BLE (Bluetooth Low Energy), which allows a permanent connection to your smartphone with minimal battery drain. You can tether the EOS M200 and shoot remotely using your phone. Or you could transfer images and video automatically from camera to phone for immediate upload to social media sites/apps.
EOS M200's photographic excellence can be expanded with a wide range of high quality yet compact Canon M Series lenses. With the optional EF Mount adapter users can also take advantage of Canon's unmatched range of EF/EF-S lenses.
The EOS M200 comes in premium matte black finish with an intuitive three mode dial on the top ensuring quick access to various functions and modes. The "Creative Assist" function helps users easily adjusts camera settings and select from a range of different photography styles. Equipped with a Silent Shooting mode, users of the EOS M200 can shoot still images without worrying about the shutter sound. The LCD screen of the camera tilts 180 degrees with a dedicated self-portrait mode.
Price:
EOS M200 + EF-M15-45 IS STM kit lens: INR 43 995/- incl. of all taxes
EOS M200 + EF-M15-45 IS STM + EF-M55-200 IS STM kit lenses: 57 995/- incl. of all taxes