CMF, a new sub-brand of Nothing has launched today a portfolio of three products: Buds Pro, Watch Pro and Power 65W GaN.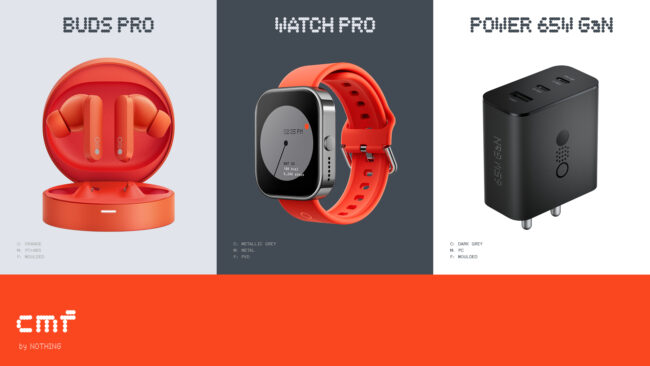 CMF Buds Pro delivers an optimal sound experience with 45 dB Hybrid Active Noise Cancellation, Clear Voice Technology for clear calls, and a powerful Dynamic Bass Boost driver. Leveraging six high-definition microphones and powerful software algorithms, CMF Buds Pro offer up to 45 dB of active noise cancellation by capturing and filtering an extensive frequency range of sounds, up to 5000 Hz. This wide frequency range allows for the elimination of a broader spectrum of background noises, ensuring an immersive audio experience even in noisy environments. Additionally, an advanced Wind Noise Reduction algorithm, combined with two optimally positioned openings at the top of each earbud for wind to pass through, ensures minimal sound interference caused by wind.
By leveraging all six high-definition microphones on the earbuds and using Clear Voice Technology – an AI noise reduction algorithm developed and trained on over 20 million sound samples – Buds Pro eliminates background noise and ensures optimal voice clarity during calls.
Buds Pro combines a custom driver with Ultra Bass Technology, a software algorithm that detects and enhances low frequency sounds in real-time. The custom designed diaphragm, made from Liquid Crystal Polymer (LCP) and Polyurethane (PU), enhances elasticity, enabling a more precise and powerful bass output. Furthermore, an enlarged exhaust vent in the rear chamber improves airflow within the driver, resulting in richer low to mid frequencies and crisper high frequencies.
With a large 55 mAh battery in each earbud, users can enjoy up to 11 hours of music playback on a single charge (with ANC off), or extend their listening time to up to 39 hours with the charging case. Fast Charge enables a 5-hour listening session after just 10 minutes of charging.
You can connect to the Nothing X app to maximise your CMF Buds Pro experience. You can customise touch controls, switch between ANC levels, or personalise your listening experience using the equaliser. You can activate Low Lag Mode to reduce latency when gaming on your smartphone.
CMF Watch Pro – is meticulously designed, with clean lines and a sleek aluminium alloy frame.
CMF Watch Pro features a 1.96" AMOLED display with 600+ nits peak brightness, coupled with its 410×502 resolution, 58 fps refresh rate that enhances your information with brighter, vivid and more accurate colours. With support for multiple satellite positioning systems, you can effortlessly obtain accurate location, trace, and distance data for activities such as running, cycling, walking, and hiking.
In addition to offering 110 sport modes to support your fitness activities, CMF Watch Pro focuses on your wellbeing with 24-hour health monitoring. This includes real-time heart rate and blood oxygen saturation monitoring, sleep and stress monitoring, hydration and movement reminders, and personalised goals to track your progress.
CMF Watch Pro is powered by a 340mAh battery, providing up to 13 days of battery life with typical usage. With an IP68 rating for water resistance, it can withstand rainy and wet conditions easily.
CMF Watch Pro utilises AI technology to deliver great call clarity. You can access your contact list with the dialpad, enabling you to make and receive calls on the go. The built-in microphone and speaker reduce background noise and enhance speech quality. With AI trained on over 100,000 noise models, it accurately identifies noise types in your environment and cancels them out, ensuring clearer calls.
Power 65W GaN is small, portable, widely compatible charger. From phones and laptops to earbuds and tablets, its two USB-C ports and USB-A port enable you to charge various devices. It incorporates the latest GaN technology for the most efficient charging experience, all delivered in a surprisingly compact and sleek design, perfect for slipping into bags and pockets.
This charger uses nitrogen and gallium materials instead of silicon, resulting in a higher electrical field strength and more efficient device charging. With robust thermal conductivity and high-temperature resistance, the CMF Power 65W Charger also excels in heat dissipation. It can charge a Nothing Phone (2) to 50 percent in just 25 minutes.
The CMF Power 65W GaN charger is compatible with all major fast charging protocols, including PD3.0, QC4.0+/3.0/2.0, SCP, FCP, PPS, AFC, Samsung 9V2A, DCP, and Apple 2.4A. It works seamlessly with MFI-certified cables, ensuring optimal performance across a range of tech products. Moreover, it supports a wide voltage range of 100-240V, making it suitable for use anywhere in the world.
Availability and Pricing
CMF Watch Pro – Metallic Grey and Dark Grey – priced at INR 4,999 and INR 4,499 respectively.
CMF Buds Pro – Dark Grey, Light Grey, and Orange – priced at INR 3,499
CMF Power 65W GaN charger – Dark Grey and Orange – priced at INR 2,999
Limited Drops with Superkicks: Superkicks will be one of the first places in the world for customers to buy CMF Buds Pro and Watch Pro. Availability starts on Sep 30th, with Limited drops at their Delhi store with special launch prices up to Rs. 500 off.
Limited Drops/Limited Period Sale on Flipkart and Myntra: Customers can avail early access and purchase CMF Buds Pro, Watch Pro, Power 65W GaN during the limited drop sale on Flipkart and Myntra on Sept 30th at 12 PM IST at a special launch price of INR 2,999 for CMF Buds Pro, INR 3,999 for Watch Pro (Dark Grey) , INR 4,499 for Watch Pro (Metallic Grey) and INR 2,699 for Power 65W GaN (Orange).
Customers who previously purchased the Blind Drop Pre-order pass can visit Flipkart on Sept 30th at 12 PM IST and redeem the pass on either CMF Buds Pro, Watch Pro, Power 65W GaN and also avail pre-order offers like special launch price, extra Rs. 500 Flipkart voucher and priority delivery.
CMF products will be available on sale for everyone starting with Big Billion Days on Flipkart and also on Myntra.
CMF by Nothing will be available in offline stores including Vijay Sales and leading retail partners.