Hyundai Motor India has unveiled a design render of its upcoming SUV – Hyundai EXTER. Hyundai EXTER design presents a unique reflection of Hyundai's Design Identity of Sensuous Sportiness.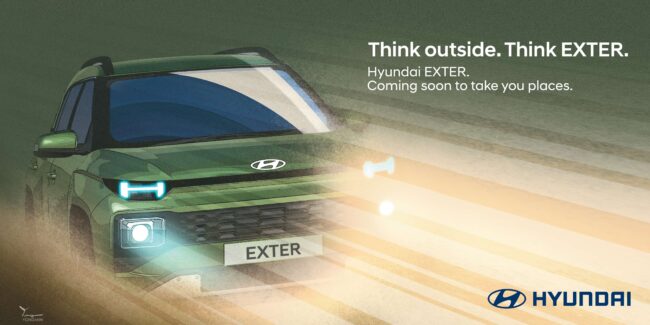 Developed on the lines of Hyundai's Global Design Identity of 'Sensuous Sportiness', Hyundai EXTER draws its inspiration from outdoor, travel and urban lifestyle. Hyundai EXTER has been designed to present a modern take on the Hyundai SUV life and epitomizes bold characteristics of SUVs. With distinct creases and chiseled surfaces, Hyundai EXTER presents a fresh take on Parametric Dynamism that will set it apart from contemporaries as stated by Hyundai in its press statement.
With an imposing front look and distinct Signature H-LED DRLs, Hyundai EXTER promises a SUV oriented design and features an iconic character. The SUV's unique front face is rounded up with dynamic parametric patterns that give it a standout appeal on the road. Dynamism on this SUV is elevated with distinctly carved character lines that amplify Hyundai EXTER's identity.
Speaking on the announcement, Mr. Tarun Garg, COO, Hyundai Motor India Ltd., said, "It is with immense pleasure that we present the evocative and dynamic design of Hyundai EXTER, our latest and extremely important addition to our SUV lineup. Exuding elements of Parametric Dynamism, Hyundai EXTER is set to define new aspirations of young Gen Z customers that are looking to own a modern and youthful SUV. Forming a seamless amalgamation of Hyundai's SUV DNA and Global Design Identity of Sensuous Sportiness, Hyundai EXTER is coming soon to fuel your wanderlust."