Dolby Laboratories has unveiled its latest innovation in immersive audio – Dolby Atmos FlexConnect. TCL, a world leading TV brand, will be the first to implement Dolby Atmos FlexConnect in its 2024 TV lineup as stated by Dolby Laboratories in its press statement.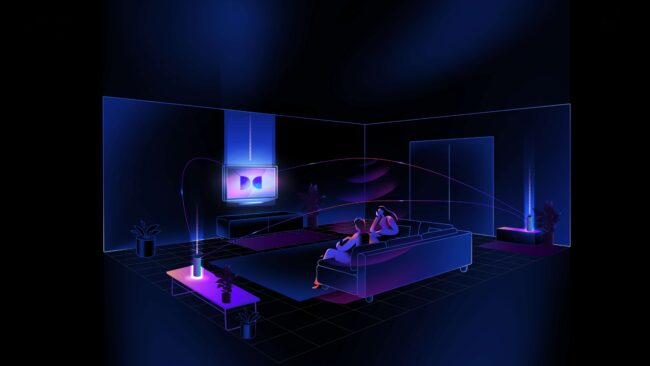 According to Dolby Laboratories, Dolby Atmos FlexConnect is a new feature that seamlessly pairs together a TV's sound system with accessory wireless speakers to unlock a more extensive and immersive Dolby Atmos sound experience. It then intelligently optimizes the sound for any room layout and speaker setup. TCL will also launch a line of accessory wireless speakers designed to complement its upcoming lineup of TVs with Dolby Atmos FlexConnect.
Consumers want the best audio possible out of their sound system, but some rooms are too small or too big to place speakers in their optimal position, while others have a unique layout that limits where devices can be placed, such as the location of power outlets or furniture arrangements. Not all consumers want to trade aesthetic appeal for sound performance. And unless calibrated properly, sound systems will assume the speakers are set in reference locations.
Dolby Atmos FlexConnect unlocks the freedom to place one or more wireless speakers anywhere in a room without having to worry about whether they are placed perfectly. The solution is also easily adaptable when more device types are added, which will allow TCL and other manufacturers to innovate with how they bring together different device combinations and form factors to meet the needs of their consumers.
The system then intelligently combines each accessory device with the TV's speakers to unlock the best sound performance and deliver a Dolby Atmos sound experience tailored to their home.
Salient Features of of Dolby Atmos FlexConnect:
Dolby Atmos takes entertainment to the next level, immersing audiences in astonishing, multi-dimensional sound. With Dolby Atmos FlexConnect, consumers can unlock the ability to add accessory wireless speakers to their Dolby Atmos-enabled TV to elevate their system's audio performance one step further.
• Gives the flexibility to place speakers anywhere it's convenient and make the best use of room dimensions, power outlet locations, and furniture arrangements as desired without compromising audio quality.
• Setup is simple and fast, requiring no additional equipment or cables. Dolby acoustic mapping leverages microphones in the TV to locate each wireless speaker in the room, calibrating the system automatically to ensure optimal audio performance.
• Audio is intelligently spread from the TV speakers to each wireless speakers, dynamically optimizing the sound signal based on the capabilities and location of all available speakers. This allows the sound image to be adjusted to ensure listeners are always enjoying best-in-class performance.
Dolby and TCL will be showcasing Dolby Atmos FlexConnect at IFA, which will be powered by MediaTek's Pentonic Smart TV series chipset.