FUJIFILM India has launched INSTAX mini 12 instant cameras for on-the-spot photo printing. The mini 12 is an evolved version of the globally popular INSTAX mini 11 (mini 11). It is for close-up shots and selfies.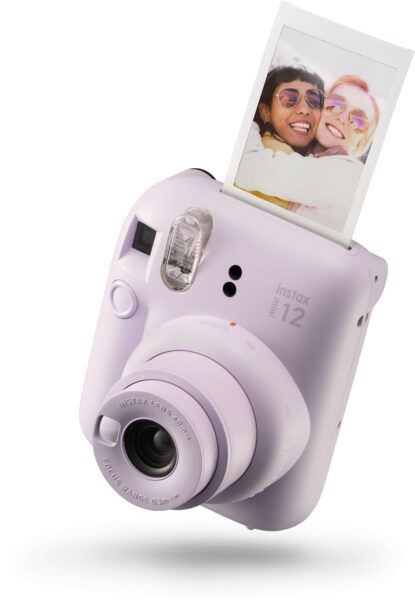 The mini 12's balloon-like design expresses the fun packed into the INSTAX, which allows users to produce photo prints on the spot, a unique feature of INSTAX. The lineup of five pastel colors offers a variety of colors to suit each individual's style.
The mini 12 features the "Automatic Exposure," a popular function of the predecessor mini 11 launched in May 2020, in which the camera automatically determines the correct exposure for a given scene. Rotating the lens one step activates the "Close-up mode," perfect for close-up shots and selfiles. This is the first entry-level INSTAX to feature a function that prevents discrepancies between the viewfinder field and the actual printout area in close-ups, allowing anyone to enjoy taking a close-up shot as intended. When taking a selfie, the "Selfie Mirror" beside the lens can be used to check the composition of a finished print while shooting.
Priced at INR 9499, the Mini 12 will be available from 20th April on www.Instax.in and various online retailers like Amazon, Flipkart, Nykaa, FirstCry to name a few apart from 700 retail stores.
Commenting on the launch, Arun Babu, Head of Digital Camera, Instax & Optical Devices Business, FUJIFILM India said "With the launch of mini 12, we have upgraded the product with features like Automatic Flash control which automatically adjusts to the amount of light from the flash for selfie (Close-up mode) and reduces blown out highlights making the images look more natural. Also new features like parallex correction and easy to operate lens design while adding different colors to this compact instant film camera that captures and prints credit-card sized photos in seconds that's perfect for capturing and preserving memories on the go. We will be launching the mini 12 standalone and multiple combos of 10, 20 and 40 shots Fujifilm has also started offering the smartphone app "INSTAX UP!", which can scan prints taken with INSTAX cameras and save them as digital prints in the smartphone. A digitized print can be combined with a favorite background, using intuitive operations common for smartphone apps, to create a collection of very original INSTAX prints. This app makes it easy to view precious INSTAX prints on a smartphone anytime and anywhere, or post directly to social media from within the "INSTAX UP!" smartphone application for instantaneous sharing with friends, a new way of enjoying INSTAX prints"