LG Electronics has introduced a limited edition of the LG ToneFree earbuds comprising of three models – HBS-FN7, HBS-FN6 and HBS-FN5U, on the occasion of Ganesh Chaturthi. These special earbuds come with a free Ganesha printed case worth Rs. 1499, alongside a beautiful case that comes in silver and green color options.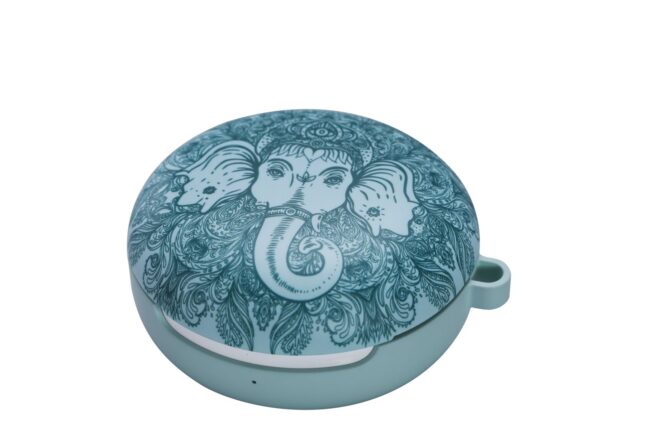 According to the brand, LG TONEFREE earbuds are India's first 99.9% bacteria free earbuds, that eliminates bacteria while charging. The HBS-FN7, HBS-FN6 and HBS-FN5U earbuds are equipped with a unique and innovative UVnano charging cradle with ultraviolet light that sanitizes the earbuds, making the listener feel fresh throughout the day.
The case comes with LED lighting on the top, making it easy to monitor charging level and UVnano status. These earbuds have features of Active Noise Cancellation (ANC), Meridian-tuned premium sound, sleek and ergonomic design.
Besides above, the LG TONEFREE come equipped with a convenient new feature for consumers to easily locate their earbuds – "Find my Earbuds". With this new feature consumers can easily locate their missing earbuds by using the TONEFREE app, with a beep sound when one presses play in the Find My Earbuds page. Thus, indicating the last GPS location of the earbuds.
Some other salient features of the earbuds:
The LG TONEFREE range feature technology from Meridian Audio. Accessible through the LG TONEFREE app available for both Android and iOS devices, Meridian's EQ sound settings provide an elevated listening experience via four customized presets to suit the listener's musical taste.
LG TONEFREE HBS-FN5U features the Meridian's Headphone Spatial Processing (HSP) which overcomes the challenges of headphone listening such as their compact size and lack of 'crosstalk' between the left and right channels. HSP not only recreates a realistic soundstage that simulates the experience of listening to real loudspeakers, but it also delivers vocals with pristine clarity.
The LG TONEFREE FN7 comes with Active Noise Cancellation (ANC), specially engineered to reduce high-frequency noise encountered daily. With specialized ANC activated, environmental noises are completely neutralized, making every note and voice sound clearer, more natural, without losing the details from turning up the volume to maximum.
The LG TONEFREE FN7, FN6 and FN5U cradle comes with a compact design that fits easily into the palm, and two-color options; Stylish Black and Modern White.
LG TONEFREE earbuds have an ergonomic design, engineered to fit comfortably in the ears with head-centered weight distribution that helps them stay snug and secure along with a flexible, medical-grade ear gels that conform to the ear shape.
The earbuds are IPX4-rated for sweat and rain.
The HBS-FN7 comes with a 21-hour long battery life with up to 7 hours of playback and an extra 14 hours in the cradle — all from one charge, while the HBS-FN6 comes with an 18-hour long battery life with up to 6 hours of playback.  The FN5-U earbuds last a total of 18 hours of battery life.
The FN5-U model is priced at Rs 11,990, FN6 at 24,990 and the topmost FN7 at Rs. 29,990. These are available on LG's online store, Ecommerce retailers and retail stores across India. LG is also offering cashback of up to Rs. 2,000 with selected credit card payments.