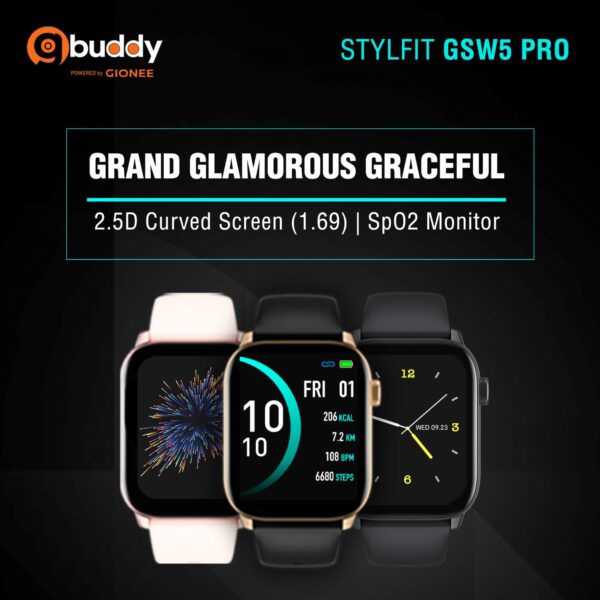 Smart accessories brand GBuddy has announced its Special Republic Day Sale offer for its smart wearables under the Gbuddy portfolio. The brand is offering STYLFIT GSW5 Pro at a Special Republic Day Sale Price of Rs. 1999 on Amazon and STYLFIT GSW10 at a Special Republic Day Sale Price of Rs. 2099 on Flipkart starting from 17th January.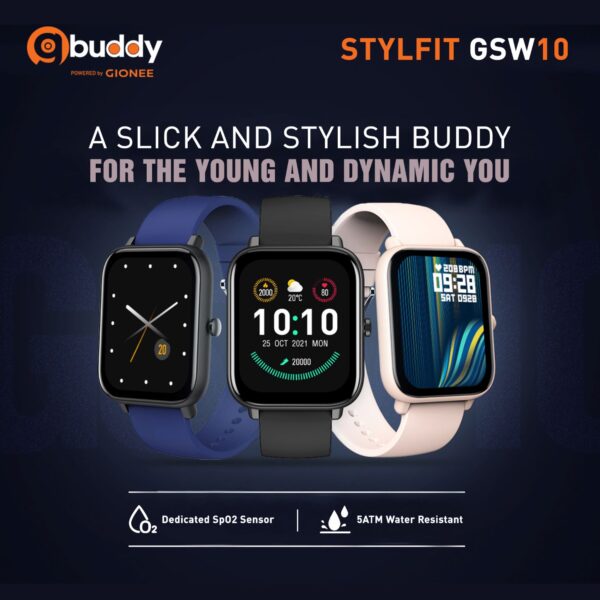 GBuddy has an exciting range of smartwatches, smart accessories & audio accessories. GBuddy's SmartWatch range encompassing more than 10 models (GSW1, GSW4, GSW5, GSW5 Thermo, Senorita, STYLFIT GSW6, STYLFIT GSW7 & STYLFIT GSW8).
The STYLFIT GSW10 is a perfect blend of fashion and fitness. With STYLFIT GSW10, users can measure SpO2 level with a dedicated sensor, monitor heart rate. It also comes with other health features such as menstrual cycle tracker, sleep monitor, sedentary reminder, pedometer, calorie counter, etc. Along with a screen size of 1.69 inch, a 220mAh battery powers GSW10. This smartwatch comes with more than 100 cloud-based and editable watch faces. Additionally, this watch comes with 5ATM water resistance, allowing you to use it while swimming. The watch also supports 12 sports modes including walking, cycling, running, basketball, tennis, yoga, dancing, etc. Users can also use this smartwatch as a camera as well as a music remote for the smartphone. GSW10 is available in three colour options – Matte Black, Astro Navy & Misty Rose.
STYLFIT GSW5 Pro features a 1.69 inch display with a 2.5 D curved screen. Users can now track health, stay fit as STYLFIT GSW5 Pro also comes with health, and fitness features such as SpO2 monitor, heart rate monitor, menstrual cycle tracker, sleep monitor, sedentary reminder, pedometer, calorie counter, and more. With this smartwatch, the user can control music playing on the phone from the wrist, or even a smartphone camera via Bluetooth for group shots and selfies with a single tap. The smartwatch also supports multi-sport modes such as walking, running, cycling, rope skipping, badminton, climbing, yoga and sit-ups. It also offers a gravity sensor to monitor activities with greater accuracy. GSW5 Pro range comes with more than 100 cloud-based watch faces to make your look more stylish and refreshing every day. It has a powerful 220mAh battery that offers 25 days standby time and 8 days use time. It also comes with IP68 grade waterproofing. This smartwatch is available in Matte Black, Cream gold, and Misty Rose colour. It is compatible with Android Version 4.4 or above; iOS version 9.0 or above.
As a part of the Republic Day Sale offer, few other GBuddy wearables are also available at special prices – STYLFIT GSW6 at Rs. 2699, STYLFIT GSW5 at Rs. 1599, STYLFIT GSW8 at Rs. 2999 and STYLFIT GSW7 at Rs. 1799.