Goibibo, Online portal for booking domestic and international flights, hotels and holidays packages, has announced an industry first feature for flight booking and seat selection. This feature will take the flight booking experience one step ahead and would give travellers ability to choose their desired flight seat just on Whatsapp.
According to Goibibo, their team had a conversational design challenge to overcome, because of the limitations that WhatsApp imposes. The four major challenges were:
1. Show the entire layout on screen without any redirections
2. Demarcate the different categories of paid seats
3. Limit the number of user inputs (to as low as single word reply for free seat)
4. Make a scalable design (A320 vs A380?)
Goibibo solved these challenges in following ways:
Step 1- Leverage WhatsApp for business to confirm bookings
Give customers their ticket confirmations and a PDF copy of their tickets. In late 2017, WhatsApp had opened up their platform to let businesses engage with customers and provide after sales support.
Step 2- Leverage heart emojis to show seat layouts – The reason behind using the heart emojis is that it is the only emoji with 6 colour options

Step 3- Let customers reply with their desired seat number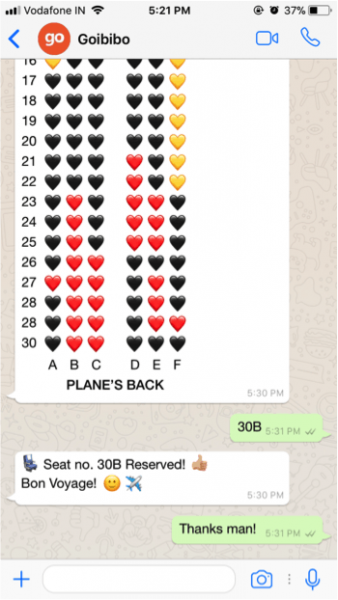 In case of a free seat, customers can just reply with their desired seat number and Goibibo books and confirms that seat for them. In case, a customer upgrades to a premium seat, a payment link is sent to them and the seat is confirmed after the payment is processed.
With the above initiative, Goibibo has observed that the seat bookings increased 5 times in just first few days of this feature going live. The feature is currently Live for IndiGo bookings and the integration will be LIVE across all major domestic and international airlines very soon.