Haier Appliances has launched AI-enabled 959 Direct Motion Motor Fully Automatic Front Load Washing Machines in India. This Made in India machne ( Model no HW90-DM14959CBKU1) is priced at INR 56,990 and is available across Haier official online store and retail stores across India.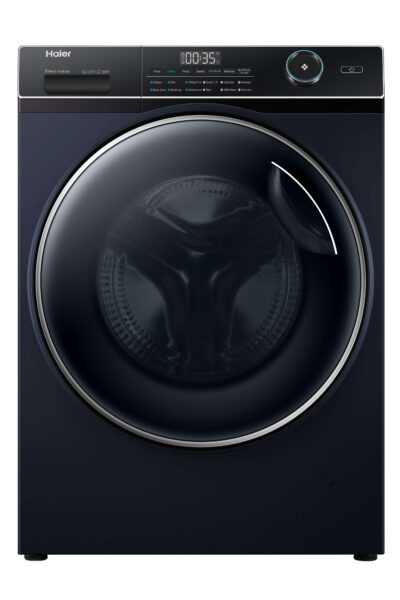 Haier 959 Super Drum washing machines with capacity of 9 KG comes with integrated Direct Motion Motor technology that notably diminishes vibrations and noise, thereby extending the washing machine's lifespan. This washing machine also boasts of Artificial Intelligence and IoT-enabled capabilities, elevating the laundry experience to a new level. Furthermore, the enhanced software, featuring AI-DBS (Dynamic Balance System), guarantees a tranquil and stable washing process throughout the entire cycle. This machine has a slim and redesigned body that seamlessly fits into various spaces, such as kitchens, washrooms, or balconies.
This washing machine has extra-large 525 mm super drum for ample space for clothes and introduces an extra level of care, thereby elevating washing efficiency and overall quality. The expanded drum size not only reduces creasing but also simplifies the loading and unloading of laundry, ultimately saving valuable time for users. Moreover, this washing machine is equipped with a high-efficiency ABT (Anti-Bacterial Technology) that maintains the cleanliness and hygiene of the gasket and detergent dispenser. It even features Dual Spray technology and the PuriSteam function, which work in tandem to effectively eliminate bacteria, allergens, and mites, ensuring a thorough cleansing process.
Its Pillow Shape Drum has been designed to provide a delicate and considerate approach to minimize friction throughout the washing process. This intricate design guarantees that clothing items receive the highest level of attention, shielding them from potential damage and preserving their overall quality. The distinctive pillow-shaped drum configuration introduces a gentle scrubbing action that effectively safeguards your garments from wear and tear. This is achieved through the presence of 2.2mm diameter holes strategically positioned between the pillow bulges, facilitating a gentle movement that reduces abrasion and offers your clothes the most tender care. Also, the washing machine is enhanced with a smart dual spray mechanism that springs into action during the rinsing cycle. This innovative feature works diligently to eliminate lint residue from the lid and gasket, resulting in the eradication of allergens from clothes.
The Haier Front Load Washing Machine can be managed remotely via its WiFi Control functionality, affording you the convenience of monitoring and modifying settings directly from your smartphone. Plus, with the Haier HaiSmart App, you can relish the streamlined operation of the washing machine.