Haier has launched new range of Bottom Mounted, Top Mounted and Direct Cool refrigerators with a luxurious glass-finish for the festival season.

The Bottom & Top Mounted Refrigerators are available in Spiral Glass finish, while the Direct Cool Refrigerators are available in both Spiral & Wave Glass styles. These patterns have been designed keeping in mind the modern kitchen décor of Indian households.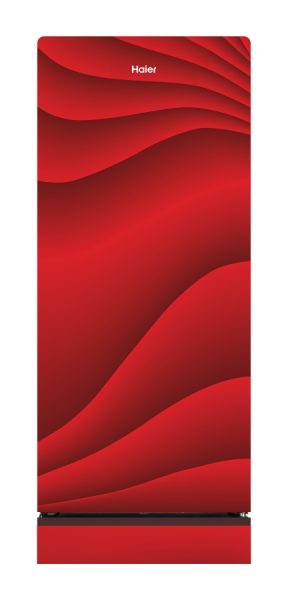 The innovative Bottom Mounted Refrigerators (BMR) line-up HRB-2764PSG-E, HRB-2964PSG-E, HRB-3404PSG-E and HRB-3654PSG-E are specifically designed keeping in mind the daily usage habits. With the freezer section mounted at the bottom and refrigerator section at the top, Haier BMRs help in a 90% reduction in bending compared to conventional refrigerators. Moreover, with the innovative 8 IN 1 convertible feature, users have the freedom to convert the freezer portion into a fridge or back to a freezer within a time span of just 50 minutes. The new BMRs provide a wide capacity ranging from 256 liters to 345 liters. The refrigerators come with additional features such as twin inverter technology which automatically adjusts the cooling efficiency of the refrigerator, turbo icing technology that makes ice 200% faster in just 49 minutes. The refreshed range of BMRs comes with a warranty of 10 years on the compressor as well as the fan motor on premium models.
The futuristic 5 IN 1 Convertible range of Top Mounted Refrigerators, HRF-2784PSG-E and HRF-2984PSG-E, are the perfect solution to address all space issues. Its heavy duty twin inverter compressor allows you the ease of converting the freezer into a fridge and back to a freezer with five convertible options within 50 minutes. This refrigerator features energy saving and retention modes that help users in saving energy and maintaining cooling retention in the refrigerator. The 5 IN 1 Convertible Top Mounted Refrigerators also come with turbo icing feature that helps make ice 200% faster in just 49 minutes.
The new range of Direct Cool Refrigerators HRD-1955CSG-E, HRD-1955CWG-E, HRD-1955PSG-E, HRD-1955PWG, HRD-2204CSG-E, HRD-2204CWG-E, HRD-2204PSG-E and HRD-2204PWG-E are armed with superior features and comes with a sturdy structure and an elegant design. The refrigerators have high quality heavy duty compressors for faster cooling and limited annual power consumption of only 128 units for 5 star and 168 for 4 star respectively. With the thickest PUF insulation of 6.5 cm, the refrigerators are capable of providing effective and efficient cooling throughout. The Direct cool refrigerators feature 1 Hour Icing Technology that helps in making ice in about 60 minutes. The new 5/4 Star DC refrigerators are available in stunning Spiral and beautiful Wave Glass designs.
These refrigerators are available now at following prices:
DC Refrigerators
HRD-1955CSG-E – MRP Rs. 21000
HRD-2204CSG-E – MRP Rs. 22800
HRD-1955CWG-E – MRP Rs. 21000
HRD-2204CWG-E – MRP Rs. 22800
HRD-1955PSG-E – MRP Rs. 22200
HRD-2204PSG-E – MRP Rs. 23700
HRD-1955PWG-E – MRP Rs. 22200
HRD-2204PWG-E – MRP Rs. 23700
Bottom Mounted Refrigerators
HRB-2764PSG-E – MRP Rs. 36300
HRB-2964PSG-E – MRP Rs. 38700
HRB-3404PSG-E – MRP Rs. 45800
HRB-3654PSG-E – MRP Rs. 49900
Top Mount Refrigerators
HRF-2784PSG-E – MRP Rs. 34500
HRF-2984PSG-E – MRP Rs. 37000