Hisense which is Chinese multinational major appliance and electronics manufacturer headquartered in Qingdao, Shandong province, has showcased three new Laser TVs – the 75-inch Trichrome Laser TV, the Sonic Screen Laser TV and the Self-Rising Screen Laser TV.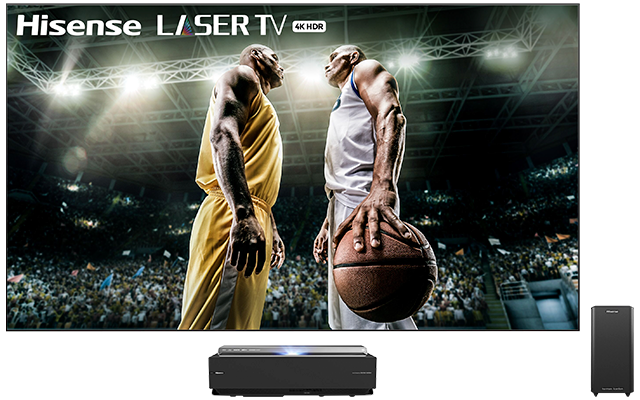 Dr. Liu Xianrong, the chief scientist of Hisense Laser Display, explaimed Hisense Laser TV technology in three aspects- Color, Audio and Form. According to him, the 75-inch and 100-inch TriChroma Laser TV is a breakthrough of color technology. The TriChroma technology enables the Color display of laser TV to surpass all colours existing in nature. It can reach an incredible 90% of the colours recognizable by the human eye. Laser TV is the only display product that meet the BT2020 standard, the top standard for future TV Color. Hisense Sonic Screen Laser TV pioneers the technology of sound generation for cellular bionic screens. This technology makes the positioning of the sound clearer and enables the sound to spread further and perform better in detail. Hisense also introduced a prototype of the Self-Rising Screen Laser TV. The Self-Rising Laser TV provides a rolling screen that is able to roll and maintain peak optical performance.
At CES 2020, Dr Lin, vice president of Hisense Group also highlighted few of Hisense breakthrough technologies of 2019 as well. One of them was world's first DUAL CELL TV. Compared to traditional LCD technology, the DUAL CELL TV can bring better view angle, improve the contrast ratio to the OLED level subjectively with better black level. Dr Lin also emphasized that Hisense would continue developing the global VIDAA platform to provide consumers a smarter operating system, richer content, and a better product experience. VIDAA AI platform received great support from top global content providers such as Netflix, YouTube, Amazon Prime Video and more. By the end of 2019, it had over 50 million connected households which is expected to reach to 65 million this year.
Hisense shall be launching its range of Smart Televisions in India in March, 2020 with features like Quantum Dot technology which creates huge amount of Color combinations for more detail, Dolby Vision & Dolby Atmos for full immersive & engaging cinematic experience, Hi-View Engine to present stunning picture quality, Full Array Local Dimming with more dimming zones for better contrast ratio and a bezel-less slim designs.
Hisense claims that they are ranked number one market leader in TV in China, South Africa, Australia, and Japan. With both Hisense and Toshiba, the Hisense group is targeting 40 million TV sales per year and aiming at number two position globally, as stated by the company in its press statement.