Hitachi has introduced 3 new product ranges under airHome series of Room AC – Yoshi a 5-star series, iZen a 3-star series and Senpai a 3-star series. Yoshi and iZen Series of Inverter air conditioners are highly rated on aspects of aesthetics and par excellence in cooling performance.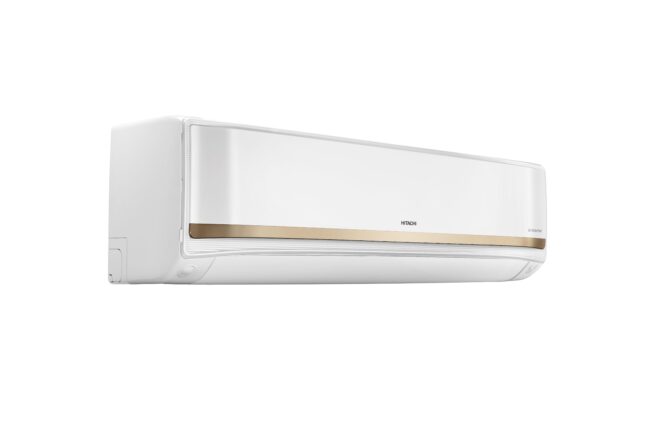 AirHome series of Yoshi, iZen and Senpai range air conditioners add to the aesthetics of one's space interiors
with the duality design. Its dual panel look, dual surface finish, dual platinum and dual gold colour tone,
longer lasting Star white colour, accentuate curve design and iconic wave design are an addition to
the beauty of the interiors of the living space. The UV paint keeps the air conditioner's white colour shining.
These inverter air conditioners have amazing features such as:
Ice Clean feature – Hitachi's Frost Wash Technology makes the maintenance of the indoor unit much easier and increases the life of the machine. Frost/ Ice forms on the heat exchanger in the unit and after a while when this ice melts it washes away the dust, mold, and bacteria, thus offers clean air & maintains 3 times airflow which gives better cooling over a period time. Hitachi Cooling and Heating Air Conditioners come with AQtiv-Ion – the built-in ionizer releases negatively charged particles, which deactivate pollutants
Long Air Throw – Hitachi's airHome series air conditioners are designed to throw air upto 24 meters to give
best indoor cooling experience. The four-way swing enables cooling across all corners of the living space.
airCloud Home allows the user to control the air conditioner remotely. The innovative ambient light feature
allows consumers to know easily their ambience, be it cold, comfort or warm. This feature has three colors –
cool blue for cool ambience (16- 23°c), comfort green for comfort ambience (24- 27°c), and warm red for
warm ambience (28- 32°c).
These new products are available across all leading retail stores and on leading e-commerce portals.
Speaking about the launch, Gurmeet Singh, Chairman and Managing Director, Johnson Controls-Hitachi Air Conditioning India Ltd. said "The new age Indian consumers are well informed and know exactly what they seek from their air conditioner. They understand their options and demand for the best possible solution. Hitachi Cooling and Heating has earned its place as a preferred air conditioner brand in India because we feel the pulse of our consumers and have built our solutions not just to match but to surpass their expectations. The brand is one of the top brands in the country and we are aggressively moving forward towards holding a better position in
the market."