Hitachi, manufacturer of India's 3rd most selling air-conditioners has introduced its latest range of energy efficient air-conditioning solutions today. Hitachi is known for windows, split-type and commercial airconditioners. Today they have introduced more energy efficient and eco –friendly products and aim to bring revolution in Indian AC industry and become India's leading HVAC brand by 2021.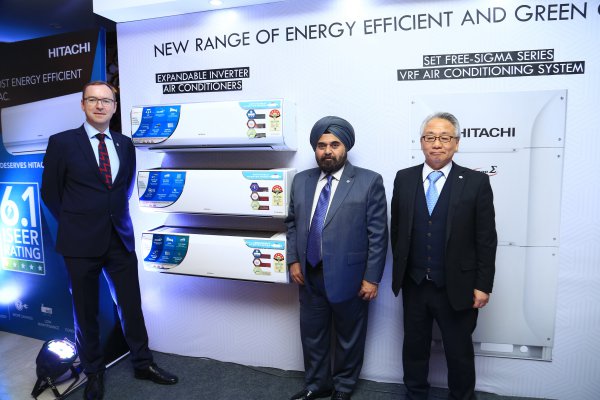 To expand its reach in tier 2 and 3 markets, Hitachi has launched today 22 new models  in its Inverter air conditioner range which are designed to cater needs of first time buyer and mid segment AC buyer. With close to 100 models in its RAC line-up, Hitachi is committed to provide Air conditioning solutions to every segment of Indian AC consumers.
Hitachi Expandable Inverter Air Conditioners have been designed to give maximum comfort even at 52 degree C ambient conditions of the Northern Plains or the hot humidity of the Coastal Areas.
Talking about the Expandable Inverter AC series, Mr. Gurmeet Singh, Managing Director, Johnson Controls – Hitachi Air Conditioning India Limited said, "With 6.1 ISEER, our product Kashikoi 5400X+ (1.0 TR, 5 Star) is today India's Most Energy Efficient Split Air Conditioner in the Room AC segment. A part of our Expandable Inverter Air Conditioner Range, this product has our unique Dual Flow Expansion Technology (DFET) which makes it most energy efficient air conditioner available in the industry. Our key focus will remain towards providing 5 Star Inverter ACs which are one of the most energy efficient and eco friendly machines in its category".
In its Commercial Air Conditioning Segment, Hitachi has introduced new products and technologies in VRF Air Conditioning Systems, Ductable Air Conditioning Systems and Chillers that takes its new product lineup a notch above the rest.
VRF is highest growing category globally and in India, it has good growth opportunity in not even commercial but in residential segment also. Hitachi has introduced Sigma Series in VRF segment, which not only saves energy but also saves on space and running cost. Hitachi's Set Free 'Sigma Series' is unique product designed globally but keeping India's climatic conditions in mind.
Hitachi's current range of Ductable and Chillers are eco friendly products, which are designed for efficient cooling with maximum energy efficiency. Hitachi also has chillers, which are the most energy efficient with highest COP in India as on date.
Hitachi is an established, premium brand with more than 30 years of legacy in India. As a part of its growth strategy, post the global joint venture between Johnson Controls, U.S. and Hitachi, Japan, the company has been taking big initiatives to fortify company's leadership in the market.