Huawei, the third largest smartphone maker in the world, introduced today the upgraded version of its EMUI 8.0 that is ased on Android 8.0 Oreo.  This software has been designed in-house and promises to deliver a quality user experience, aided by AI-powered Real-Time Scene and Object Recognition, Smart Tips, and AI Accelerated Translator.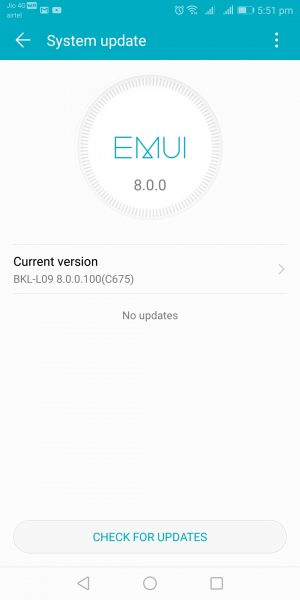 In terms of functionality, the EMUI 8.0 is dynamic as it is based on machine learning. Intelligent Resource Allocation, Intelligent Context Awareness, User Behavior or Intelligent Behavior Prediction- are all different AI capabilities fueling the EMUI 8.0, to provide a more durable fast experience to the consumer.
Besides above, it engages in low memory management by allocating resources in a way to provide more space to ensure smooth experience coupled with different AI capabilities. It helps the users for one-hand operation navigation dock and has features of pinned shortcuts, customized themes, private space optimization, simplified settings, accessibility to recently deleted documents or in general phone management.
"The upgraded EMUI 8.0 is avant-garde technological software which is efficient, secure and above all, user friendly. Eradicating lag, they can witness a faster and smarter phone experience, powered by advanced AI technological features. The update significantly cuts down on the number of steps needed to achieve the desired function through its smart applications like navigation dock and smart screen, and enables the user to reach 90% of the core functions in just a single-click. We have developed the EMUI 8.0 for those who live and work on-the-go," said a Huawei R&D spokesperson.
EMUI 8.0 is in sync with Huawei/Honor's consumer-centric approach and brings smooth flawless experience and a curated design for its users. A true successor to EMUI 5.1, the software provides simplified interface enabling an easy single touch switching between user spaces, prompt data transfer and quick file sharing abilities.
With EMUI 8.0 installed, the smartphone can support an intelligent split-screen interface, navigation dock, simplify one-hand operation and smart view on landscape and easy switch. Incorporating the features of its predecessor, EMUI 8.0 gives smart tips on the basis of user behavior and requirements. It interacts with the user a way which makes the latter's work-life effortlessly smooth.
The EMUI 8.0 is available on the recently launched Honor View 10 and the soon-to-be launched Honor 9 Lite out of the box. This will also be available on other devices such as the Honor 8 Pro, Honor 9i, Honor 7X, and Honor 8 Lite in the near future.