Hyundai has launched today India's first Fully Electric SUV- Kona Electric which is claimed to offer 452 Kms of driving with full charge. This electric SUV is priced Rs. 25.30 lakhs and comes in variety of colors such as Phantom Black, Polar White, Marina Blue, Typhoon Silver and Polar white with Phantom Black Roof.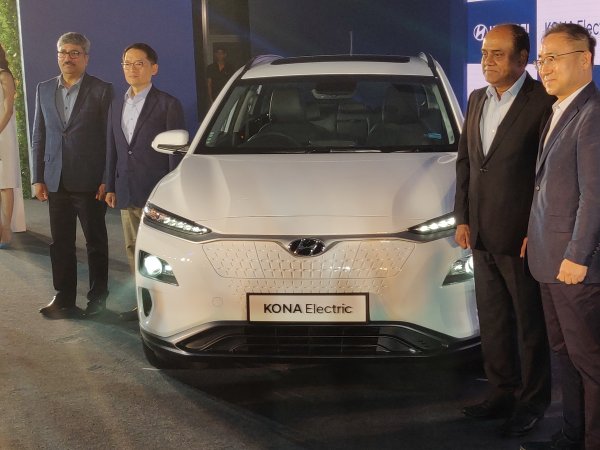 The Kona Electric on-board charger is capable of a 7.2 kW rate of charge for rapid recharging. An 80% charge can be achieved in 57 minutes with DC quick charger (zero to 80 % charge @ 50 kW), using the CCS Type II charging port, while a 7.2 kW Level-II charger takes 6 hours and 10 minutes. For charging convenience, the charging port is located in the front grille area for head-in parking ease whenever charging is needed.
Two Chargers will be given along with the car – a portable charger and an AC Wall Box Charger. The Portable charger can be plugged into any normal 3 Pin 15 Amp socket and charge the vehicle. This charger can top up daily running of 50Kms in less than 3 Hours. Whereas AC Wall Box charger (7.2 kW) can top-up charge the vehicle within 1 hour for running 50Kms.
Hyundai Electric Vehicle selling dealers will support the customer for installing the sockets at customer's premises and also provide charging demo to the customer. The Installation support for customers will be provided through their partner Allianz Worldwide.
On the design front, its front grille with intaglio patterns sets it apart from conventional vehicles. The front bold stance is complemented with the unique graphic element on grille giving distinctive and cutting edge design along with the spilt type headlamp set-up creates an iconic image. The electric charging port is seamlessly integrated with this grille area for convenient, head-in parking at charging stations. The front view is flanked by aero-tuned flared fenders that enhance its road presence. It's further enhanced by a separated-headlight design signature, with LED Daytime Running Lights above and high-efficiency LED headlights below.
As with the front LED arrangement, the rear light configuration also creates a unique, signature appearance. The slim brake lights, turn indicators and reverse lamps are in a separated configuration, surrounded by protective skin that begins at the C-pillar garnish. The rear bumper fascia conveys an inverse wave-form design element that simultaneously conveys ruggedness and a future-oriented powertrain.
This SUV comes in four different driving modes – Eco+, Eco, Comfort and Sport. In Sport mode, there is a greater emphasis on acceleration, while Eco+ and Eco modes progressively prioritize range over performance with more conservative power-delivery and deliver maximum Electric Range by brake regeneration.
The Kona Electric powertrain employs a powerful and highly-efficient 136ps permanent-magnet synchronous electric motor powered by a high-voltage 39.2 kWh advanced lithium-ion polymer battery. The motor develops 40.27 kgm of torque distributed to the front wheels giving an acceleration of 0- 100 kmph in just 9.7 seconds. The battery system has liquid-cooling technology and battery pack has high energy density. It has standard 17-inch alloy wheels with 215/55R17 tires which give surefooted, agile handling character on a variety of road surfaces. Its steering system is engineered and tuned specifically for its precise and rapid adjustments in steering feel with changing driving conditions. The steering wheel itself offers a wide range of tilt and telescopic adjustment for greater driver comfort.
In the cabin, Kona Electric Kona Electric has 17.77cm touchscreen with connectivity features of Android Auto and Apple CarPlay. The touchscreen infotainment includes AM/FM/MP3, auxiliary input, voice-command recognition and Rear View Monitor. This SUV has leather ventilated seats (Front), automatic air conditioning and Smart key with push button start. It also offers smartphone wireless charging.
The Kona Electric comes with a warranty for 3 Years and unlimited Kilometres, along with a warranty for 8 Years and upto 160,000 Kms for its High Voltage Battery.
For providing Fast Charging facility, Hyundai is working along with IOCL to develop infrastructure at select Fuel Stations in select cities (Delhi, Mumbai, Bengaluru and Chennai). The company will invest on the equipment and installation of these Fast Chargers (CCS Type – Single Port). Moreover, all Hyundai Electric Selling dealerships are equipped with 7.2 kW AC Charger to support customers for Kona Electric Charging.